Who's up for Take Away Cocktails & Virtual Gin Tasting?
You may have been planning a Dry January and there are Mocktails available but here's some fantastic local businesses who are offering you the perfect excuse to stay at home & enjoy!
Le Rêve 
Cocktail Deliveries are available every Friday & Saturday 
Delivering to - Lichfield, Sutton, Tamworth, Fradley, Burntwood, Armitage, Whittington, four oaks, Shenstone, Longdon.
Free delivery to Lichfield.
£5 delivery charge outside of Lichfield.
Delivery slots sell out fast, so we recommend booking in advance!
Call 01543 253663 to book a slot.
Got a birthday or celebration in lockdown? They've got you covered with a doorstep birthday surprise.
After a well deserved break the team return on Friday 8th with limited hours but are offering delivery or post if you prefer. Delivery days will be Thursday & Friday minimum order £25. We will update you when their Virtual Tastings are running throughout the year. Place your order today by phone 01543 401035 or email. 
Bradshaw's Farm Shop & Cafe in Burntwood.
Ways to shop with Bradshaw's:
In the Farm Shop
Click & Collect from their website
Call & Collect
Email your order info@bradshawbros.co.uk
Local Home Delivery
They offer a contact free service, however you choose to shop with and extra precautions in store are there to make your shopping experience safe.
Their cafe takeaway is open daily for Breakfast, Lunch & Takeaway cream teas & afternoon teas
How about freshly baked bread & other goodies delivered to your door with a pre-ordered subscription box from Hunnypot Cottage? The treat is you won't know what to expect until it arrives but we know it will be gorgeous with no nasty additives! Place your order today 01543 651893.
Order fresh vegetables, fabulous meat and other locally produced goodies and collect from locations around Lichfield, Tamworth & Longdon. Delivery can be arranged at an extra cost. Order by 10pm Sunday to collect for the following weekend. Order yours today. https://openfoodnetwork.org.uk/mercia-food-hub/shop
 They will be opening Thursday - Sunday as planned, and serving hot drinks and a selection of take away food. Please be aware that the terrace will be closed off and they will not have seating available, it is strictly take away only, in line with government guidance. 
 They will reopen on Thursday 8th Jan at 10am, fully stocked with fresh fruit and veg, dried and frozen foods, household liquid refills and toiletries.
You can phone and place an order for collection or delivery on 01543 406319 or email orders@thelichfieldpantry.co.uk
They will be delivering to Lichfield and Burntwood as usual (£3 delivery charge)
As per the previous lockdown you can order and pay over the phone and arrange contactless collection from the car park, where they will come and put your shopping straight into your car boot.
You can see their products on the website, but it's best to give them a ring or email to see the daily selection of fresh fruit and veg.
Los Banditos 
Are offering you Meal Deals to tempt you to try their amazing Mexican food with Mocktails of course, book yours today on 01543 471357, don't leave it until the weekend slots fill up quickly.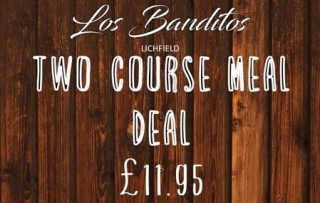 Ruby Chinese Restaurant 
Book your order early on 01543 251144 for their tasty take away for collection or delivery. 
Queens Fish & Chips
Voted your favourite Fish & Chip Shop in Lichfield! If you've not tried the battered chips you're in for a treat!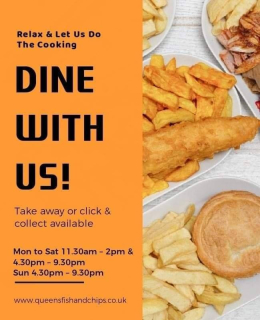 Pizza by Goli 
Your favourite Italian (or so we're told) is available to order for collection or delivery on 01543 250916. 
The Boat Inn 
Or how about treating yourselves to a three course 'Heat at Home' box from the Michelin Guide local restaurant The Boat Inn.
Collection only Friday & Saturday 12-4pm. Book yours today via their website www.theboatinnlichfield.com or call on 01543361692. 
Pom's Kitchen & Deli 
Their Deli Shop re-opens on Friday 8th for delicious coffee, cake & food for take away only between 9am – 4pm, stay safe pre-order on 01543 250085, collect & enjoy observing social distancing rules, we don't want them getting into trouble. Try their warming hot chocolate a real treat. 
Melbourne on Bird Street. 
For your favourite coffee fix & don't forget their famous cruffins visit Deb & the team for a cup of deliciousness (& that's from someone who doesn't even drink coffee!) Stick to the rules of social distancing and please take it somewhere lovely to drink we don't want them getting into trouble.
This is just a taster of local businesses if you have had exceptional service and would love to recommend why not leave a review for any local business and we will give them a 'shout' out too!
#BuyLocal