What's to Come from Lichfield Arts this Spring…
Coming up very soon... 
Lichfield Blues and Jazz Festival 2017
Lichfield Arts are delighted to bring back this popular festival now in its third year with its mouth-watering variety of blues and jazz performed by some of the best known and loved names on the national and regional music circuit.
Visitors will be treated to a wide range of concerts and performances in pubs and historic venues right across this picturesque city, with music ranging from acoustic and strident Blues, to Big Band Jazz, Swing, Boogie –Woogie and full-on Jazz.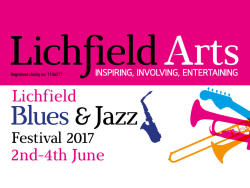 The Festival line-up features the Climax Blues Band, Sticky Wicket & his Swing Orchestra, Chris Gumbley & Anything Goes, Remi Harris Trio, Fred 'T' Baker, Emma Johnson Boogie Woogie Quartet, Masai Blues, Dunnett Baxter Big Band, Callum Roxburgh 'Swing' Orchestra, Lichfield Jazz All Stars, Blast Off, Lindy Hop dance workshop and a wide variety of street events.
Additional venues this year include a 'Festival Hub' based at the George 1V public house, complete with pop-up blues and jazz stage, and Lichfield Sports Club, the city's newest regular blues venue.
Internationally renowned musician and songwriter Roy Wood has joined Lichfield Councillor David Smith in accepting an invitation from Lichfield Arts to become Patrons of this year's Lichfield Blues and Jazz Festival. Read more here…
Next Four Lichfield Arts Concerts…
The next few weeks sees the welcome return of four great bands to Lichfield.
From Solo guitar, soul and R&B, folk and Roots, to foot stomping rhythms from the golden age of Jazz there's sure to be a concert for everyone's taste, all presented in the friendly atmosphere of Lichfield Guildhall where you'll also be able to enjoy a glass of real ale from the Lichfield Arts bar.
Fri 24th Mar 2017: Martin Taylor
Award-winning guitarist Martin Taylor celebrates his 60th birthday and 45 years as a touring artist with a series of solo UK concerts.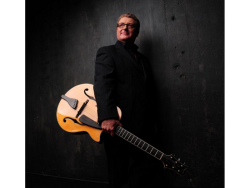 Widely considered to be the world's foremost exponent of solo jazz and fingerstyle guitar, Taylor's remarkable musical career has spanned five decades, with more than 100 recordings to his name, an MBE, two honorary doctorates and many international awards.  
Sun 26th Mar 2017: Gigspanner
Led by ex-Steeleye Span fiddle player Peter Knight. This trio have a growing reputation as one of the most innovative acts on the folk/roots scene, dismantling the traditional and reassembling it in an intriguing, imaginative and beautiful way.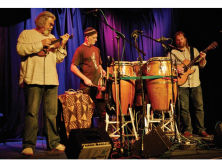 Traditional music forms the bedrock of the trio's repertoire but the approach sets it apart… leaving enough space within the arrangements to spread and stretch the music to embrace other influences in the moment. 
Sat 8th Apr 2017: The Stumble
A blistering mix of blues, soul and old school R&B, The Stumble have been wowing audiences with the energy and virtuosity of their live performances for the past 20 years.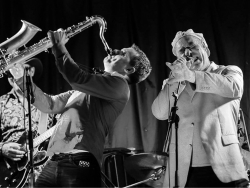 The Stumble write original songs as well as revisiting and reinventing classic renditions of covers by artists such as Howling Wolf, B.B. King, Ike Turner and Peter Green's Fleetwood Mac. Expect raw power, emotion, joyous melodies, heartbreaking blues and a guaranteed good time with a band on the crest of a wave. 
Sun 9th Apr 2017: Fret and Fiddle
Come and hear songs from the shows such as "Anything Goes' by Cole Porter," sing along to old hits like "I Can't Give you Anything but Love" and prepare to be dazzled by Andy's greek bouzouki playing!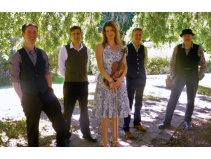 Now boasting an expanded five-piece line-up, this versatile and entertaining group even throw in a few refreshingly individual songs by the likes of Tom Waits and Leonard Cohen making certain that there is something in every show to delight everyone in every audience. 
Check out the Lichfield Arts feature to keep up to date with exciting new events!