What's on in the Easter Holidays in Lichfield?
Saturday 6th - 27th April 
Join an Easter word hunt around the Samuel Johnson Museum plus free activities throughout the holiday.10:30am – 4:30pm, £1 for trail pack.
Saturday 6th - Sunday 28th April: 
Throughout Easter, kids are invited to come to Beacon Park to solve their Easter themed puzzle trail. When you solve the clues and complete the puzzle, prizes to be won.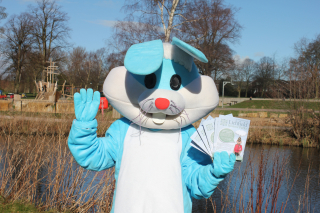 Saturday 13th - Sunday 28th April
Enjoy the many Easter holiday activities aimed at children at the National Arboretum Memorial from a Stick Man Trail to Nature Detective Backpacks. Don't miss it. 
Monday 15th - Friday 26th April 
JC Academy are back this Easter with their popular activity club. When your child goes to JC Academy, they will have the chance to take part in activities they love, such as sports, arts & crafts, and so much more. Be sure to book them a place this Easter!
It maybe school holidays but for students with looming exams it's a worrying time. Never fear Arlen Education are here to help GCSE and A level students with extra revision to help them achieve their goals this summer. Book now.

Monday 15th - Wednesday 17th April
Based around the ever popular Mary Poppins this 3 day Musical Theatre Workshop is ideally suited for children aged between 6 - 18yrs of age. Parents get to watch their performance on Wednesday afternoon.

Wednesday 17th April
Join in the fun at Bradshaw's Farm Shop & Cafe, as they pull out all the stops at their Easter Fun Open Day, free entry, lots to see and do. Charges apply for some activities.
Let the kids decorate their own eggs this year at the Lichfield Garrick with a little help from the Garrick team. Suitable for ages 6 -12. Booking essential. 
Catch the classic movie Oliver at the Lichfield Garrick this afternoon. Great if the weather turns nasty.
Good Friday - 19th April
How about taking part in a Puppetry Workshop at the Lichfield Garrick? Suitable for children 10+.

Saturday 20th - 22nd April
This Easter weekend pop down to Erasmus Darwin House for family fun and Easter trails, free entry but small charge for some activities. 
You don't have to travel far to enjoy the Easter break – we have lots going on here in Lichfield!