What's on During Autumn in Lichfield
To kickstart the last quarter of the year, there's the Lichfield Heritage Weekend, which will feature a fantastic range of historic themed talks, walks and entertainment for all ages.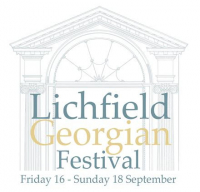 All of this ties into Lichfield's first ever Georgian Festival; which will run from September 16th – 18th. The festival is all about celebrating and absorbing the Georgian Heritage that is so present in Lichfield, so why not come down and join in the festivities?
Lichfield's favourite bread making team Hunnypot Cottage Designs will be showcasing their delicious artisan breads at some of the local markets and other venues.
These includes The Shepherd's Hut at The Heart of Country Shopping Village (10th September); the Food & Craft Market in Whittington (17th September); the Tutbury Farmers & Craft Market (25th September) and the Middleton Hall Food & Craft Market (25th September.)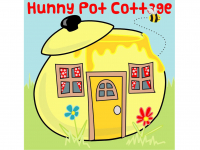 If you love beautifully designed and expertly baked homemade bread, come and see Hunnypot Cottage Design at any of these events and see for yourself why they're highly recommended on thebestoflichfield!
The best way to end the summer is a good old fashioned garden party, and that's exactly what's happening at  Elford Hall Garden. On 17th September, visitors are welcomed to bring their own picnics as they enjoy live music, lawn games, acoustic tent and more fun awaits.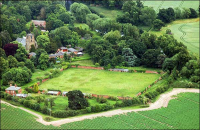 Also that weekend is the very special Cockles' Climbers Charity Ball, hosted by our recommended accountants Brookes Stephens. The ball is a fundraising event on behalf of the Tamworth Wellbeing Cancer Support Charity.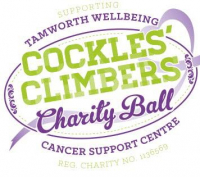 Autumn is a great time of year to visit the National Memorial Arboretum, not just for scenic visits, but to take part in the activities they have lined up.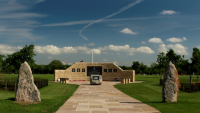 In September, The Wildlife Watch group will be collecting fruit and nuts from trees and shrubs in the Arboretum to create a harvest bonanza.
In October, they will be on the hunt for some of the mini creatures who like to call the Arboretum home; and in November, they will be making shelters from materials found in the woodland areas of the Arboretum. 
Everyone is welcome to the Hints Village Scarecrow Festival & Fête on 18th September, where there will be lots of events and activities to be enjoyed by all, such as tombola, vintage cars, birds of prey, live music and of course the scarecrow competition!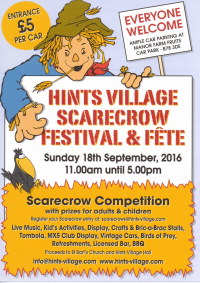 If you find that Autumn is always a tricky time of year when it comes to your wardrobe, then a night out at the Autumn Fashion Show on Monday 26th September is exactly what you need.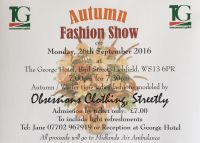 Following from the success of the sell out Spring Fashion Show, visitors will be able to get their hands on the Autumn/Winter collection brought to you by Streetly fashion boutique Obsession.
All this is to raise funds for the Midlands Air Ambulance. Places are limited so book yours today.
Lichfield Arts' Autumn Season is packed full of great entertainment for all to be enjoyed. Highlights include the always popular Lichfield Festival of Folk; Plug & Play at The Guildhall as well as the countless talented musicians and performers who come to perform for Lichfield audiences. 

Things are getting spooky this Halloween in Lichfield with lots of Halloween themed events happening as well as favourites returning.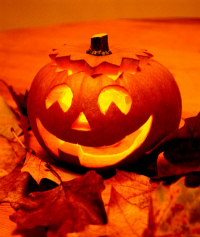 Learn all about Lichfield's dark past and ghostly secrets in the Gruesome and Ghostly Tours around Lichfield. The always popular and scare-filled Screamfest returns and promises to be scarier than ever – an event only for the brave! There's also the edge-of-the-seat supernatural thriller The Exorcism playing at the Lichfield Garrick, where terrible events will unfold for the audience to witness in horror.

Or, if you like your Halloween a bit more on the fun side and less scary side, there's always the more light-hearted Halloween events, such as the Halloween Party at the Erasmus Darwin House, where there will be fun themed activities for children of all ages.
Children can also take part in the Halloween Puzzle Trail around Beacon Park, where there are small prizes to be won!
The Lichfield Garrick has a whole range of fantastic shows in their new season for audiences to look forward to. Here's just a taster of what's on…
The critically acclaimed ghost story The Woman in Black (September 13th - 17th) comes to the Garrick after its successful run on London's West End. Join the 7 million theatregoers worldwide who have experienced "The most brilliantly effective spine-chiller you will ever encounter."
The charming, kooky and hilarious musical cult classic Little Shop Of Horrors comes to the Lichfield Garrick (20th - 24th September) with X Factor Star Rhydian Roberts in the line-up. The hit musical comedy is a show you will not want to miss out!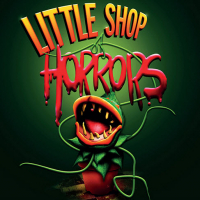 Lichfield's very own Tony Christie will be treating audiences to songs from his greatest hits in an unforgettable evening of music (25th September). Performing beloved classics as well as songs from his new album, 'The Great Irish Songbook', audiences will be in for a real treat.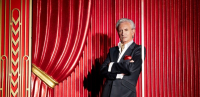 Those are just some of what to look forward to this autumn in Lichfield.
If you have an event and would like to advertise it on the site click here.