What Sells well at Car Boot Sales?
Are you looking to pick up a bargain? Or perhaps you have unwanted items and want to make some profit? Here's a list of what sells well at car boots! 
Clothes - A top seller at car boots, buyers enjoy the abilty to check out sizes and styles there and then. Designer clothes usually sell very well too, as people are always looking for deals on what are usually expensive items. If you are selling your old clothes, make sure they're in good enough condition and don't leave anything valuable in any pockets (it's rumoured a £5,000 diamond ring was found in a coat pocket at a Car Boot!)
Perfumes & Cosmetics - Especially if you're selling off cosmetics, make sure they're unused! Would you really want to buy someone else's half-used lipstick? However, people will buy unused lipstick, so best not to be tempted to try it on before selling it off. Surprisingly, people will buy half-filled bottles of perfume and fragrances.
Jewellery - If you're unsure of selling certain pieces of jewellery, it might be worth having their value estimated by a jeweller. You don't want to end up selling a potentially profitable piece of jewellery for standard prices. Watches are also popular, but just make sure the watch is working before selling it.
CD's, PC Games, DVD's and Records - Especially with the rise of vinyl recently, records will sell extremely well with any music enthusiast. CD's do well too, but it's the collectables that people really love. However, best not to bring damaged or scratched CD's/records as nobody will want them. Don't sell illegal copies at a car boot, as it's illegal, so be careful.
Musical Instruments - The list is endless of what instruments sell well at car boots. Older instruments may be worth more value, as they're more likely to be seen as a collectable. Buyers will often pick up and play the instruments, so double-check that they're suitable for selling before you give it away.
Small & Large Electrical Items - If you plan on selling off something like a mobile phone, best to make sure it's working. You don't want an angry consumer shouting back at you when they discover their newly-bought phone isn't working - a cracked screen might also be a put off for some. It's best to show the consumer that the product functions fine before they buy it. Large electrical items such as stereos sell well too, but they do take up a lot of room in your boot, plus they're difficult to carry around for any buyer.
Collectables - All kinds of collectables turn up at car boot sales. They say another man's trash is another man's treasure, and this rings truth with this. What might not be special or worth anything to you, might be a collector's dream come true! Vintage collectable items usually sell very, very well, so might be worth looking in the attic to see what you can find.
Furniture - Furniture can be expensive, so people are keen to find pieces that are not only good quality, but at a good price too. Once again, best to make sure it's in good enough condition to sell. Some people will even buy furniture that's considered out of fashion by today's standard, so that ugly chair that you've detested for years could be the apple of someone else's eye.
If you want to sell off any items or pick up the deal of the century, why not pop down to the Woods Farm Car Boot Sale? Running every Sunday from 7th May through to September, it's the perfect place to sell or to buy.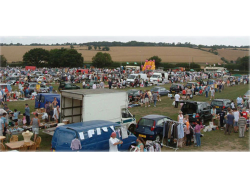 You might just end up making some cash or finding your new favourite item.
Always phone to confirm they are open due to our inclement weather.