An impressive 639 businesses from 80 areas qualified for this year's competition - 23 of those being businesses featured on thebestoflichfield!
This year our businesses were really put to the test and faced a lot of tough competition from other businesses around the country.
However, we are delighted to announce that many of our local Lichfield businesses were able to come out on top and be crowned the winner in their category; named as one of the 100 best UK businesses; best Lichfield businesses and one even the best business in the UK…
Winners in category include:
Lakeside Bistro – Best Café in UK
Cathedral Chem Dry – Best Carpet & Upholstery Cleaners in UK
Manor Farm Fruits– Best Days Out and Attractions in UK
Pom's Kitchen & Deli – Best English Restaurant in UK
McKenzie's Restaurant – Best Speciality Restaurant in UK
Hunnypot Cottage Designs – Best Specialist Retailers in UK
JC Academy - Best in Children's Activities & Parties
10 businesses were awarded with being highly commended in their respective category.
We also had several businesses finish in the top 100 nationally as well as be recognised as one of the top 20 businesses in Lichfield.
We are also very pleased to announce that McKenzie's Restaurant was awarded with being the number one business in Lichfield AND the whole of the UK!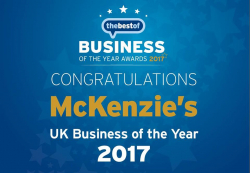 Last year they were just pipped to the post for 1st place, but this year they did not hold back and secured 1st place throughout the entire competition.
Our thanks must go to our businesses who worked hard throughout January as well as all those who left reviews for our businesses – it couldn't have happened without you!
However, just because the competition is over, doesn't mean we don't want to stop seeing those review cards. Keep them coming!