You can't deny the power of the Internet. It's such a huge part of our lives now and will probably stay for many, many years or even forever.
The online world has a surprising impact on our "offline lives" too. Using the Internet to market your business has proven very effective. As for consumers, it's proven to be a useful tool to find great local businesses.
One of the things that has become big on the Internet is reviews. There is no doubt about how much power online reviews are for businesses.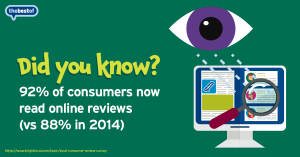 A lot of businesses get business through word of mouth, and reviews are essentially the same thing. Seeing the opinions of other people can help to determine the quality of a business for a consumer.
Equally, just seeing that the business has reviews is a positive (unless those reviews are incredibly negative!)
Seeing that a business has reviews means that they care what their customers have to say and appreciate feedback. If those reviews happen to be positive, that's an added bonus!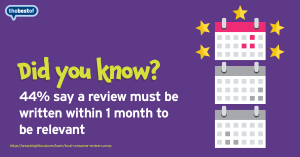 Keeping up to date reviews is another important factor. If a consumer sees that the last added review was from several years ago, then it may look lazy on the business' part, or that they don't care. 
Plus, in a time where things date pretty quickly, it doesn't take long for something to no longer be relevant. This doesn't just apply to fashion trends, it applies to lots of things, including reviews!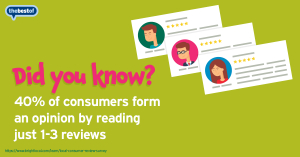 Some businesses really embrace online reviews and have 100s or even 1000s of reviews (such as our very own McKenzie's Restaurant.) However, it would take forever to look through all of those reviews and most of us don't have the time to do so.
That's why only a handful of those reviews are actually read. Usually reading a few reviews is enough to form your own opinion.
When the business has lots of reviews, it means there's more to choose from, which is nice. For businesses, it's good motivation to get more reviews, knowing that they only stay relevant for so long.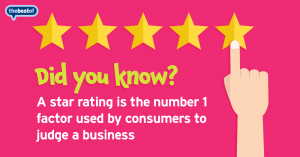 Usually if we rate something, it's either a star rating or a numerical rating.
Since the Internet is a very visual place, it's no wonder that the star rating is the best way to represent a rating. If something is 5 stars, you immediately know it's good. If something is only 1 star, you know it's not so good.
It's a simple and effective way of presenting information. Think of it as a summary of a review.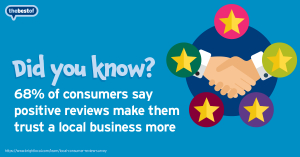 Seeing that other people have used a business and were happy with their service establishes a lot of trust. If a business had no reviews or lots of negative reviews, it may make consumers nervous about using their services.
Of course, no business is perfect and not everyone can be pleased. Businesses get negative reviews for different reasons, so if you're looking at a businesses' reviews and see an odd negative one here and there, it's good to examine it and see why they got a negative review.
However, one negative review out of 100s of positive reviews shouldn't put you off completely.
Unless nearly every review they had was negative, it's good to remember that nobody is perfect! It's especially good if a business acknowledges negative reviews. It is feedback after all, and feedback is what helps with improvement.
Consumers who see a brand respond to a negative review reported an increase of 116% in purchase intent.
Here at thebestoflichfield, we understand how important reviews are for both local businesses and consumers. That's why we highly encourage local people to write reviews for local businesses. In fact, the local businesses featured on this website are recommended by local people!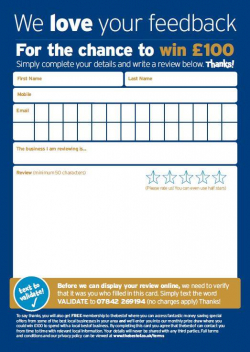 You may have seen these review cards every now and again. They give local people the chance to review local businesses and we highly encourage it! If not then you can leave a review on our website by clicking here. You could even win £100!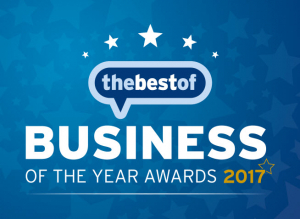 Every year, thebestof rewards local businesses from across the UK with the annual Business of the Year Awards.
So what do businesses have to do to qualify? Get reviews of course! This year saw many amazing local Lichfield businesses win awards. 
JC Academy were voted as the best in Children's Activities nationally. We also had Cathedral Chem Dry winning the award for best Carpet & Upholstery Cleaning company.
McKenzie's Restaurant impressed by winning both Best Local Business as well as Best Specialist Restaurant. They also came 2nd for best UK business!
It's safe to say they are determined to win next year!
It really goes to show that by giving local businesses feedback, it really helps them and it helps their customers and future consumers. 
Your opinions really do matter.