The Lichfield Arts Fuse Festival 2019
The Fuse team is working hard to put together a high quality and diverse line up of live music, dance, poetry, workshops, art activities, food traders, market stalls and two bars.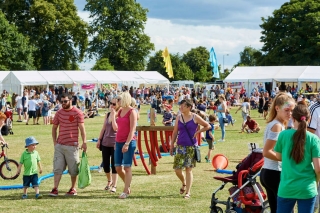 Fuse Project Manager Jeff Fowler said "this will be the 18th Fuse Festival, and it continues to evolve each year.  For 2019 new developments include: a tie-up with the Lichfield Festival to introduce acts to each other's festival; an arrangement with funding partner Lichfield BID to bring Fuse performers into the city centre during the festival; and an expanded festival market courtesy of Cocker Hoop Creative, the organisers of the Lichfield Food Festival, including a gin bar to complement our main bar". 
Music programmer Phil Beale said: "Once again we have a tremendous line-up of music, spanning genres as diverse as rock, afrofbeat, RnB/soul, ska, pop, folk, jazz and reggae.  Headliners on Friday night are Irish punk folksters The Lagan; on Saturday night it's the amazing 11-piece afro-rock-funk-psych outfit Agbeko and the festival closes on Sunday afternoon with the Bethlehem Casuals, self-styled purveyors of Afro-Cuba Tropical-Kraut.  We always support local acts at Fuse, and this year is no exception, featuring Americana duo A Different Thread, rockers Y!KES, Citylightz and Learn To Lie, superstar DJ Thumpa, the Lichfield Gospel Choir, the hybrid skiffle of The Grecian Hummers, young world folk troubadours Wildfire Folk, community jazz band Blast Off and Rob Taylor with his band The Bad Decisions". 
Lichfield Arts' Outreach Trustee John Percival said: "we are once again turning over one of the music marquees on the Friday night to 'Lichfield Arts Introducing' where young people aged 11 to 19 run their own mini-festival: performing, stage managing, MCing and operating the sound and lights.  It's the perfect opportunity for them to learn, work in a team, build confidence and have fun".  If you are a young person aged 11 to 19 and would like to get involved, please contact John at john.percival@lichfieldarts.org.uk. 
"The music will be complemented by lots of additional activities and entertainment for all the family" said Pam Beale, organiser of the non-music events. "They include circus skills, a steampunk ceilidh, Bhangra and salsa dance workshops, a drum circle, children's storytelling, sporting challenges, poetry readings, arts and crafts, group dance displays, close-up magic and a yoga class".
As a free event put on by the charity Lichfield Arts, Fuse is reliant on volunteers and on income from sponsors.
Hence the Fuse team would love to hear from potential volunteers and from local businesses interested in helping to fund the event in return for excellent promotional opportunities.
Both should make contact via fuse@lichfieldarts.org.uk.
Full details and timings will be available on the Fuse website – www.fuselichfield.org.uk
Facebook – LichfieldFuse
Twitter – LichfieldFuse
Instagram – lichfieldfuse