The Importance of Shopping Locally
I've travelled to a lot of cities and towns in the region this year to do some shopping, as well as to enjoy the different locations. Although there is something I have began to notice with a lot of them – the shops are all the same.
You do still see some independent businesses, which we love of course, but often you will find that the high streets, town centres have been dominated by high street brands. It feels like once you've visited one town centre, you've seen them all.
It's sad, really. I travel in the hopes of finding something that won't be available in my area, hence why I'm willing to travel the distance. But usually I'm faced with the shops I've seen a thousand times.
All these thoughts came to me as I walked down Dam Street in Lichfield recently. I looked at the shops as I walked past them, realising that all of them are independent businesses. That honestly feels like a rare occurrence nowadays!
It then got me thinking more about the importance of shopping locally. I remember being in college and people complaining about how small Lichfield's city centre is. I can understand their argument, but what it lacks in size it makes up in individuality.
Here in Lichfield, we are fortunate enough to still have some independent businesses that are still going strong. It's sad to see some of them go, so that's why it's important to shop locally and to support the local businesses as well as the local economy, which is why I'm writing this and what thebestoflichfield is all about!
Of course more high street brands are going to pop up and have become quite prominent in Lichfield, that's just how it is nowadays, but for every one of those that pops up, another optimistic business owner is opening their doors and starting their career, which we are always happy to hear about!
Christmas is a great time to get something sentimental and unique, which is where independent businesses truly shine.
The Kitchen Shop on Market Street is home to an impressive range of kitchen and cookware that you will struggle to find anywhere else. The staff are friendly and welcoming, and will help you in any way possible, ensuring your experience is memorable and that your first visit is not your last.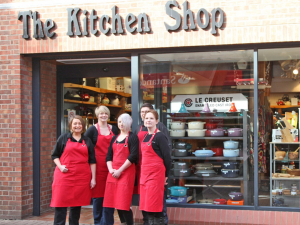 Independent jewellers ES Jewellery are the go-to place in Lichfield for jewellery. They offer a number of quality jewellery services such as ring re-sizing, jewellery design and remodelling, valuations and more. The staff are more than happy to help with any enquiries and will help choose your perfect gift from the selection of jewellery they stock.
If shopping makes you hungry then why not try something different and visit one of Lichfield's many independent restaurants?
The award-winning McKenzie's Restaurant welcomes diners to enjoy a unique dining experience. Located in the Corn Exchange, visitors will be treated to mouth-watering cuisine as well as efficient and friendly service from the staff.
When it comes to individuality, there's nowhere quite like Pom's Kitchen & Deli. The décor and overall style is unique and quirky, which makes the experience that more memorable. Accompany that with top quality food and warm, welcoming staff and you've got yourself one of Lichfield's most loved restaurants.
Those are just some of the great independent businesses that call Lichfield home. So why not pay them a visit and show your support for all things local?
Who is your favourite independent business in Lichfield? We would love to know!