The Fantastic Fuse Festival is Back!
Happening this coming weekend Friday 8th- Sunday 10th July in the lovely surroundings of Beacon Park, the festival will host two music stages, an Imaginarium workshop space and a range of activities and performances for the whole family.
Evolution stage manager Phil Beale said: 'The new team have worked hard to put together the most diverse creative programme to date and we're looking forward to sitting back and enjoying the performances  across the weekend.'
The festival opening hours are Friday 7-10pm (gates open from 6.30pm), Saturday 12 noon -10pm (gates open from 11.30am) and Sunday 10.30am-6pm.
Friday night sees both the Evolution and Momentum music stages in full festival swing with a jam packed opening night programme including British 8-piece The Indecision. David 'Ram Jam' Rodigan recently placed the band in his illustrious BBC list of the 'Best of British Reggae'.
The Saturday programme is packed full with exciting and eclectic music featuring artists such as BBC Introducing's top pick Tors, afro beat funk band Kog & the Zongo Brigade and stage headliners The Jar Family and Sonic Boom Six.
Sunday's music includes Birmingham based Global Reggae Band, Sonia Sabri Company and Little Brother Eli, Walsall Jazz Orchestra.
Brian Pretty, President of Lichfield Arts and founder of the Fuse Festival 13 years ago said: 'I'm particularly looking forward to the local artists being showcased. I'll be sure to watch Blast Off Lichfield Arts Community  Band, Kissin' Kippers Fishin' Club, Venkman, and Wildfire Folk although there are so many more to enjoy as well.'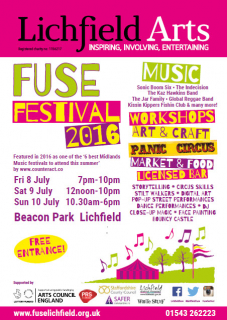 On top of the extensive music programme there will be a full programme of workshops running from the Imaginarium marquee that will be suitable for a range of ages.
Join London based outfit The Junk Orchestra for a Recycled Rave, junk band jam or instrument building.
Or get involved with Forest School Providers Woodland Beasties as they get hands on exploring the sounds of nature and the outdoors.
Other workshops include a Jazz Band jam hosted by community jazz band Blast Off and raucous rhythm sessions with Sonia Sabri Company.
2016 Fuse Co-director Cathy Fellows said: 'The Imaginarium is a workshop and performance space where you can get involved with a whole range of music-based workshops. By night the space will be used on Friday by Lichfield storytellers Tales in the Courtyard and on Saturday will host Lichfield's DJ Thumpa.'
Sunday's Imaginarium programme will host James and Little Jim's Comedy Company. Cathy's job share partner Natasha Hettihewa-Young said: 'We are delighted to welcome James to Fuse. This is a particular festival highlight which welcomes everyone and is also specifically designed for people who will benefit from a more relaxed performance environment, including people with an Autism Spectrum Condition, sensory and communication disorders, or a learning disability.' 
Fuse will also feature the magical Panic Circus fresh from Glastonbury, close up magician Damon Conlan, Silhouette Dance Academy's dancing mad scientists and many more pop up performances.
Staffordshire Guiding's Lichfield Division will be hosting a space-themed kids craft tent offering lots of activities to keep the kids entertained.
The children's play area will host an interactive sound garden on Saturday as well as bouncy castle and slide.
For those planning to attend the event, the Fuse market will have a wide choice of delicious food and festival stalls and the Fuse bar will be brimming with a great choice of real ales, ciders, lager and soft drinks.
As in previous years organisers have stated that alcohol cannot be brought into the site due to compliance restraints.
If you are planning to visit, you are encouraged to arrive by foot, bike, rail, bus or  use parking in Lichfield City centre, just a short walk from Beacon Park.

Thanks to grants, sponsorship Lichfield Arts - a registered charity have ensured that Fuse remains free entry. To add to the festival feel this year, festival goers can purchase - festival wristbands  over the festival weekend or purchase a commemorative programme which will also be available throughout the weekend.
For further information or festival timings please visit www.fuselichfield.org.uk or follow the latest news on Facebook @LichfieldFuse.