The Battle of the Somme Remembered at Lichfield Cathedral
The commemoration event will take place over three evenings from 4th – 6th August and will transform the inside of Lichfield Cathedral into a thought-provoking, emotive and poignant landscape.
This will symbolise the journey taken by soldiers to the front, using the words of war poets, visual arts, light and sound.
The event incorporates a series of stunning light projections and sound artworks created by artist Peter Walker and composer David Harper, who collaborate as 'Luxmuralis'; an exhibition of  WW1-related prints by artist Dennis May; an Edwardian sitting room; and exclusive recordings of war poetry by Oscar-winning actor Eddie Redmayne.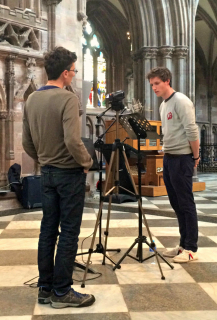 Eddie Redmayne OBE is a critically acclaimed actor best known for his roles in films such as 'Les Miserables', 'The Danish Girl', and 'The Theory of Everything', for which he won the Academy, BAFTA, Golden Globe and SAG Award for Best Actor.
Jason Dyer, Development Director at Lichfield Cathedral, says: 'Within the Cathedral there are Books of Remembrance that record all those who sacrificed their lives from our region in the Great War.  We hope this very special commemoration event for the Battle of the Somme will provide a poignant, respectful and moving way in which all visitors can remember those who lost their lives during this tragic time."
This installation has been developed by the team at the Cathedral as part of Peter Walker's Artist in Residency programme. Other projects for this programme have included 'A Cathedral Illuminated', a fantastic Christmas light show; and 'The Second Day', Somme et Lumière during Lichfield Festival.
Peter Walker adds: "In the heat of conflict 100 years ago, some of the most remarkable poems in the English language were written by young men and women who lost their lives. Eddie Redmayne's recitations of 4 of these poems form a central moment of reflection on the beauty and emotive nature of art."
There is no charge to attend the event, however donations to the Cathedral are hugely appreciated.
Entry will be every 30 minutes from 19.00 to midnight on Thursday 4th, Friday 5th and Saturday 6th August. There will be a special ending to the event each evening at midnight.