The A to Z of Lichfield - my first ever book!
"Why don't you write a book Jono" she said… "Who…me???" I replied... "I can't write a book...what would I write about…it would take ages and ages…and another thing…you have to write a LOT of words…".
This was the conversation which took place between myself and the former editor of Citylife in Lichfield magazine, Joss, in August 2018 as we sat in the tea garden at Chapters Café in the Cathedral Close. As I squinted my eyes to avoid the glare of the sun and peered up at the cathedral spires over Joss's shoulder her proposal seemed faintly ridiculous. At the age of 60 I had never written a book and didn't have the first idea of how to get it into print. Didn't you have to hawk your proposed manuscript round all those gimlet-eyed, mean spirited publishing house editors, who all smoked cigars and wore green head shades and who looked at your musings, crafted in your neatest smudge-free Sunday School best writing, then sneeringly threw it back across the desk at you while smugly saying "Try Mills and Boon.."…?
Joss soon allayed my fears as she soothingly pointed me in the direction of Amberley Publishing who produced a 'series of' books, mainly dealing with historical or geographical factual titles – so 'Streets of a town anywhere in middle England' or 'Churches of any town south of Scotland but north of London' etc etc. So, rushing to their website, I ran my finger down the list of potential options and my eyes lit up when I saw 'The A-Z of…'. I had hosted an A to Z walking tour of Lichfield earlier that year, telling stories about the history of Lichfield based upon the letters of the alphabet. But – drama – had some sneaky so-and-so already bagged our lovely city of Lichfield, beating me to the punch and foiling my plan to become the next Lucy Worsley (only without the blonde hair and legs…)? I heard myself let out an evil, maniacal laugh when I saw that Lichfield had not been allocated and realised it was mine, all mine, for the taking.  
I contacted the publisher and, in my best Sergeant Wilson from Dad's Army apologetic style, asked them if it would be alright, if they didn't mind, and, unless they had someone better, or they rather I wouldn't, would they like me to write the A-Z of Lichfield? Within 24 hours they emailed me back to say that yes, they would absolutely love me to write the A-Z of Lichfield – hurrah! I was now well on my way to writing my first ever book and it was to be all about my most favourite thing in the whole wide world…Lichfield…
After sending them my initial proposal and an outline of what I might include they asked me how long it would take me to create my opus…now that took the wind out of my sails. They said that I should write 20,000 words and provide 100 photographs to illustrate it. How many words could I write a day? Just how long would it take me, allowing for my other work commitments; natural breaks; weekends; the dreaded 'writer's block'; my regular Saturday night Chicken Tikka Masala take-away and cheering on (or booing…) the mighty Aston Villa FC…would it take…three years…16 months…or a week next Thursday fortnight???
Sensibly I asked Joss who had published several books in the past. She considered for a while and eventually recommended I take at least ten months as it was a considerable body of work and, despite my prior knowledge gained from the eponymous historical tours, it would still need extensive research. With Ten Months…Ten Months…Ten Months resounding in my ears I rang the commissioning editor at the publishers. How long will you take to write it Jonathan she asked…my well-rehearsed answer snapped efficiently back at her down the line...'I'm going to do it in…four months…four months? Four months????? Where on earth did that come from?? Oh well I've done it now, no going back, as I sheepishly explained to a stunned, but philosophical Joss.
I happily, and naively, set off on writing the soon-to-be-acclaimed international best-seller, the A-Z of Lichfield. Fiction writers will always tell you that the opening paragraphs, or chapter, are the hardest to write but with this style of factual book I had a great starting point. I literally created 26 chapters, one for each letter of the alphabet. Some chapters just had the single leading letter hanging there, all on their own, with absolutely nothing written underneath. Others had got the subjects that I was going to write about listed neatly in a line and I immediately wrote some text for them. It wasn't necessarily my finished and completed text, and sometimes I completely re-wrote my initial ramblings, but it did provide me with a skeleton of every single chapter and, on some of the letters, some basic, initial, sometimes incomprehensible, text. So, after just three days I'd got all of my chapters, all of my topics, and the first 1,000 words written – only another 19,000 to go – easy-peasy!
For each letter I chose a number of items to write about. The publishers pretty much gave me an open book to write about (apologies for the pun!) so I could use people, places, events, streets, areas or buildings, anything, or anyone, that was associated with Lichfield. The letter could represent a Lichfeldian person's first name or surname, it could be the leading letter of a street, a pub, a church or the leading letter of the first, second, or third name of one of Lichfield's many events or traditions.
Some of the letters were easy – for example the letter A produced Elias Ashmole, the Court of Arraye, the Lichfield Angel and Angel Croft Hotel. Others were simply impossible to miss – the letter J just had to be, quite naturally, Lichfield's most famous son Samuel Johnson. Others, like the dreaded Holy Trinity of X, Y and Z, were much, much harder. On one bleak, dark mid-winter evening I even contemplated using the Cross Keys car park as my letter X (Cross…X…get it?) and just as I was becoming suicideally resigned to never, ever, ever finding my letter Z the wonderfully named Appoline Zuingle came charging in on her white stead (you'll have to read the book to find out her amazing life-story I'm afraid).
The photographs, to be honest, were much, much easier than the text. I have taken, and continue to take, hundreds of iconic Lichfield photographs so about 90% of the photos I submitted for the book were my own. The remainder I obtained from local organisations and heritage attractions including Lichfield City Council, Erasmus Darwin House and the Samuel Johnson Birthplace Museum.
Finally, after four months of writing, editing, copy-editing, proofing and agonising over the final details I was ready…on the 31 January 2019 I clicked the 'Send' button and my manuscript whooshed over the World Wide Web towards the publishers.
Just a couple of months later two boxes of pristine, dark blue, beautifully illustrated (though I say it myself!) A-Z of Lichfield books were delivered to my door…all bearing the name of the author…Jono Oates…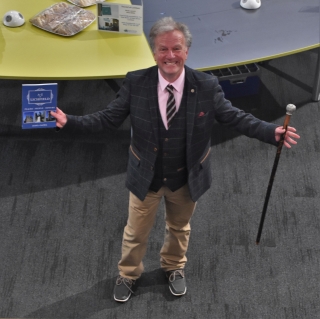 At my book launch at St Mary's Church on the Market Square  in May 2019 all of my invited guests gathered round and I explained it had been a real and genuine honour to write a book about my adopted home city and that it was such a thrill to see a book with my name on it and to be able to say that I was at the age of 61 and two days, three minutes and 47 seconds old a…published author…
In a city that has Joseph Addison, Anna Seward, Erasmus Darwin and, of course, the redoubtable Dr Samuel Johnson, as some of its most notable writers it is indeed an honour, and a privilege, to say that I have been added to the list of Lichfeldian writers…and what will be my next book I hear you shout? I'm not sure to be honest…but I am certain that Lichfield may well receive a mention…
I will be signing copies of my book, the A-Z of Lichfield, on Saturday 14 September from 1pm to 3pm in the foyer of St Mary's Church on Market Square, as part of the Lichfield Heritage Festival. Books are £14.99 and payment can be made by cash or credit / debit card.