Tea, Cake and Georgian Fun at Samuel Johnson's 307th Birthday Celebrations!
Join in the birthday celebrations throughout the day on Saturday 17th September as part of Lichfield's city-wide Georgian Heritage Weekend.
The Samuel Johnson Birthplace Museum on Breadmarket Street will be open from 10.30am – 4.30pm and admission, as always, is free of charge.
A slice of Birthday cake supplied by local bakery Hindleys will be available for all visitors, while stocks last! The beautiful historic house will be decorated by Flower Design of Lichfield.
Everyone is invited to ensemble on the Market Square from 11.30am when the civic party and Johnson Society members will gather to watch the Mayor lay a wreath at the statue of Johnson, accompanied by a performance by the talented Lichfield Singers.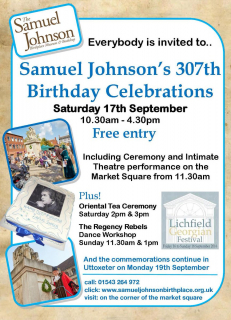 The ceremony will be followed by an afternoon of entertainment on the Market Square beginning with a new play from Intimate Theatre, 'Sam's Trifling Diversions', the annual Young Town Crier Competition, the City of Lichfield Concert Band and much more!
In keeping with the Georgian theme of the celebrations, the Museum invites visitors to explore Georgian games and pleasures with activities and games for all ages to discover around the building.
All of the cake and fun is bound to work up a thirst, and at 2pm & 3pm on Saturday you can join a fascinating Oriental Tea Ceremony to find out more about the favourite brews from Johnson's time (free, booking required).
Elsewhere in the city, Look out for the 'Black Country Players' at the Guildhall Prison Cells and around the streets on Saturday who will be keeping the peace and finding some new inmates!   
The celebrations continue at the Birthplace on Sunday with the 'Regency Rebels' leading a dance display and workshop at 11.30am and 1pm (free, booking required)
The Johnson Society will also be marking Johnson's Birthday over the weekend with their traditional supper at Lichfield Guildhall on Saturday evening, when the new President and well-known author Margaret Drabble will be installed.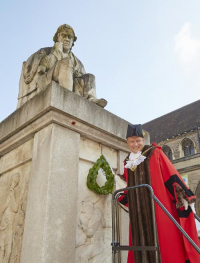 The commemorations conclude across the county with a ceremony at Uttoxeter on Monday 19th September.
All in all a wonderful weekend in store! If you would like to find out more or make a booking for the tea and dance workshops you can contact the museum on 01543 264972, via email to sjmuseum@lichfield.gov.uk or pop in to the bookshop, on the corner of the market square.