Staffordshire Day Celebrations in Lichfield
2016 marked the 1000th anniversary of the first mention of the county of Staffordshire. Last year on May 1st we saw a variety of events to celebrate all that's great about Staffordshire throughout the county.
This year Staffordshire Day is back and here in Lichfield we are celebrating all that's great about our county.
Beacon Park's Victorian May Day
Head to Museum Gardens on May Day to enjoy traditional activities and celebrate Staffordshire Day.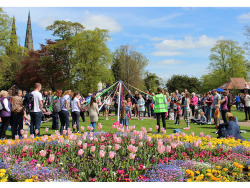 The May Day celebrations will offer visitors the chance to join in maypole dancing, make peg dolls, have their faces painted and try range of traditional games, including a coconut shy, hoopla and croquet.
A highlight of the day will be a free 30-minute Punch and Judy show at 12.30pm. To warm up the crowd, the puppeteer will wander around Museum Gardens to introduce his hand puppets to the audience.  
It is free to come along to the Victorian May Day event, although there will be a small charge for some of the activities. 
Celebrating performance, talent and arts organisations from our area in a family friendly activity day for Staffordshire Day on the Market Square, at The Samuel Johnson Birthplace Museum and all around the city!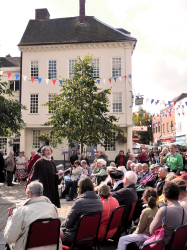 Free entry event.
Staffordshire Day: Guided Tours of Lichfield
Take a guided, costumed tour of Georgian Lichfield as part of Staffordshire Day celebrations.
Hear the story of Anna Seward, the 'Swan of Lichfield' who was a writer, poet and acquaintance of both Samuel Johnson and Erasmus Darwin, be amazed by the scandals in Lichfield Cathedral Close that involved both Anna and clergymen and finally find out about the history behind the naming of 'Spite' House!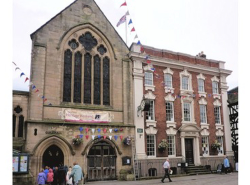 Tour will start at the Guildhall, Bore Street and costs £3.50 per person – booking is essential.
Contact 01543 268249 for booking and futher details.
Also on May 1st is the Boathouse Art Exhibition at Stowe Pool. Visitors to Stowe Pool in Lichfield are invited to peek inside the Edwardian boathouse and take a look at a new art installation.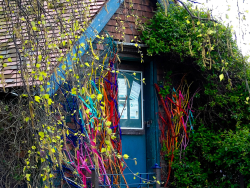 In a first for Stowe Pool, the boathouse doors will be wide open on Monday 1st May, between 10am and 4pm, and everyone is invited to take a look around the art space and see artist Hannah Golding's work and to talk to the artist and the Sculpture and Art Foundation team.
On Saturday 29th April, visit Lichfield Library for their Spring Fair. Browse a variety of stalls supporting local businesses and organisations in celebration of Staffordshire Day 2017. 
There's lots of fun events to celebrate all that's great about Staffordshire.
What do you love about Staffordshire?