SPORTING memorabilia collected by a respected England rugby international who hailed from Walsall is coming up for auction in Lichfield.
Scrum-half Webster made his England debut against Wales in 1972 at Twickenham and earned 11 caps for his country over the three years up to 1975.
He played in all Tests from 1972-1975 and in the Five and Six Nations from 1972-1975.
A hugely respected figure in the rugby community, former England captain and World Rugby Chairman Bill Beaumont led tributes to Webster earlier this year when he died following a heart attack in February 2019.
The sporting memorabilia he left behind is "a comprehensive collection of most sports you could think of", said valuer Ian Allsop.
"Since finishing playing, Webster collected all manner of sporting memorabilia.
"Obviously there's a big rugby collection – much of it personal and relating to his career – but the cricket, football and athletics elements are also very impressive.
"He seemed to collect anything and everything to do with sport."
Webster, who hailed from Walsall in the West Midlands, began and ended his rugby career with Walsall Rugby Club – an association which eventually spanned more than half a century and transcended his time as a player.
He was a key part of England's 16-10 victory over the All Blacks in Auckland in September 1973 – the first away Test win by a home nation against New Zealand – and was also instrumental in England's first-ever win against South Africa on their home turf.
He was captain and later president of Moseley, represented Staffordshire – winning what was then the County Championship – and was invited to play for the Barbarians numerous times.
A framed newspaper cartoon featuring Webster and marking that first county championship win is included in the auction.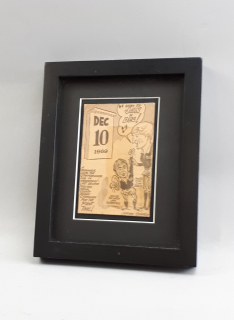 His last Test debut was Wales vs England at Cardiff in 1975.
Webster was playing when the first streaker at a major sporting event, Australian Michael O'Brien, ran naked on to the field at the England vs France match at Twickenham on April 20 1974.
A large copy of the iconic photograph showing the long-haired, bearded streaker being escorted off, his genitals covered by a policeman's helmet, is included in the auction.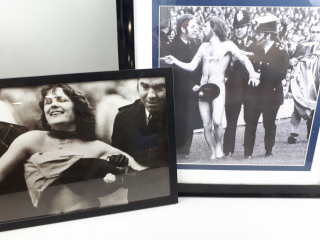 The policeman's helmet is on display in the museum at Twickenham.
The auction includes a framed photo of Erica Roe's subsequent 1982 topless streak at the same venue and a ticket from a later game signed by Roe.
As well as the huge amount of rugby-related ephemera one would expect, Jan's collection covers all manner of sports including football, cricket, the Olympics, athletics – including the local Birchfield Harriers – golf, tennis, boxing, horse racing and speedway.
There is a huge range of vintage tennis rackets and hockey sticks, plus a collection of signed miniature cricket bats covering a mixture of county and touring internationals from the 1960s and 1970s.
A framed Great Britain Athletics Team track vest is signed 'Colin Jackson 110MH World Champion 1999' and another athletic vest belonged to Ann Packer, who represented Great Britain at the Tokyo 1964 Olympic Games.
Packer, of course, was disappointed to take silver in the 400m but was entered in the 800m as a late replacement and stormed to a victorious gold.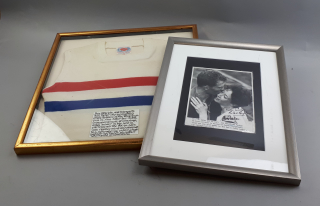 As well as the vest, the sale includes a photo of Packer being congratulated by her then-fiance Robbie Brightwell following the win which has been signed by them both.
Brightwell won a silver medal in the 4x400m relay later in the same Games.
Other highlights include a signed first edition of Roger Bannister's First Four Minutes memoir together with a photograph of him breaking the record in 1954.
There are also signed footballs including an England one bearing autographs including Graham Taylor and Paul Gascoigne, a signed photograph of Taylor, a signed Aston Villa team photo and an all-round wealth of autographs.
A big Midlands content includes a large amount of West Bromwich Albion memorabilia.
"It's been extremely interesting to catalogue – there's an absolute wealth of material that will fascinate sports fans in particular but also so much material which will grip anyone interested in social history on a wider basis," added Ian.
"You've just got to come and look at it."
The Jan Webster Sporting Memorabilia Collection goes to auction on Monday, October 14 from 2pm at The Lichfield Auction Centre, Wood End Lane, Fradley Park WS13 8NF. Viewing is on Saturday, October 12 from 9.30am-12pm and on the day of sale from 9am.