Business Expos are great ways to get your business more exposure, especially if you are aiming to do work with other businesses. Expos can vary from small, local trade shows to huge trade shows with thousands of attendees.
While attending a big expo means there's a bigger chance of more clients, which equals more profit, there's also the danger of more competition. Not necessarily from businesses in the same field as yours, but just other businesses in general.
When visiting a conference, exhibition or a convention, it can be a little overwhelming for consumers, as there's so many eager like-minded business owners who are keen to get attention which they hope will turn into business.
As for businesses, it can be frustrating when you've got so much competition surrounding you. It can be difficult to really stand out, unless you go all out and make your business really stand out from the rest.
Icon Exhibitions and Display Ltd are specialists in exhibition stands and bespoke exhibition design, with many years of providing professional exhibition stands and displays for businesses.
The team at Icon are some of the best and most creative exhibition stand designers in the UK, having created some incredibly outstanding and visually breath-taking exhibits for businesses. That's because when you work with Icon, they get to know you and your business to ensure it is represented effectively and truthfully.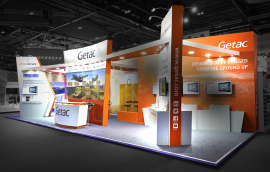 Working with small and big businesses, as well as local, national and international businesses, Icon offer their services to businesses of all kinds, helping promote businesses by creating:
Posters
Vinyl vehicle graphics
Signage
Display banners
Promotional items
Boards and magnetic signs
And much more.
So if you want to bring more exposure to your business, contact Icon Exhibitions & Display Ltd on 01543 406165 and let them help your business stand out from the rest.