See more than ever before with David Arthur Opticians
6th June 2017
... Comments
---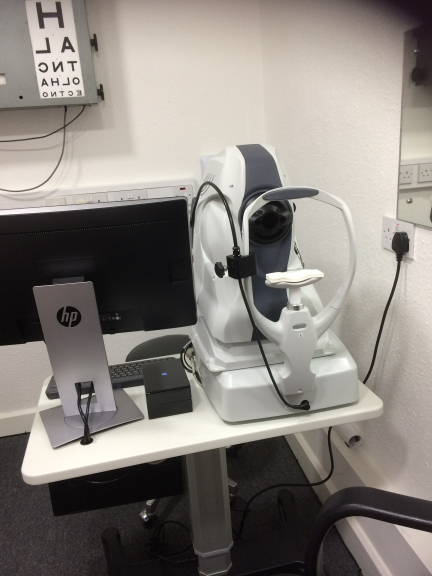 Over the past twenty years there has been several 'machines' that my eyes have been subjected to including the one that blows air into your eyes and in my case, makes me cry until I have no mascara left whatsoever!
As technology has improved the team at David Arthur Opticians have invested in the latest up to date equipment to ensure you the best possible care right here on the high street, as early detection is key to any number of eye related diseases.
With their latest Optical Coherence Tomography (OCT) instrument it allows them to see beneath the surface of the eye which allows them to detect any sign of problems or disease. OCT instruments use very advanced technology to detect abnormalities at an incredibly early stage.
During a regular eye examination, an Optometrist routinely studies the anterior of your eyes to look for any sign of abnormalities. With the OCT, they are now able to scan the back of your eye allowing them to study the eyes in incredible detail from the top surface of your retina down to the underlying surfaces, not otherwise visible. By keeping records of your previous visits, they can compare them each time you visit making early detection and monitoring of various retinal diseases including Glaucoma, Diabetic Retinopathy, Age related Macular Degeneration and a great deal more, far sooner than before.
There is an extra charge for the OCT scan however the early detection means they can refer you to the eye hospital much quicker with your scans. Early detection will lead to timely treatment and better outcomes for the health of your eye and your overall health.
The OCT scan is a very quick process, you are simply required to sit in one position and look at a target placed in front of you. The scan will end with a camera flash. It is even suitable for children.
Having experienced it myself I will certainly be having one with my regular eye check-up, it's quick, early detection is key, and not a tear in sight!
To find out more get in touch with the team at David Arthur on 01543 401028.