Rescued Greyhound Stars in Lichfield Garrick's Community Musical
Teddy, whose racing name was Greencroft Bell, is set to perform alongside the Lichfield Garrick's 50 strong cast in the theatre's first community musical The Hired Man, which will be running from 29th July to 6th August 2016.
Teddy's owner, Sharan Elsdon from Lichfield, is a lead volunteer at The Hall Green Retired Greyhound Trust, just one of over 70 branches of the trust, a charity committed to raising awareness and finding forever homes for former racing greyhounds.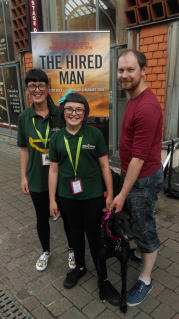 Teddy – who is actually a she - raced more than half her career in Oxford, before moving to Hall Green Stadium in Birmingham and retiring in 2014. 
Sharan commented: "Rehearsals are going really well so far. I thought the bright lights and the hustle and bustle of the theatre might unsettle Teddy, but she has taken to it like a duck to water. She's a true thespian and it never ceases to amaze me how adaptable, calm and collected greyhounds are. We are hoping that audiences will be so impressed by Teddy that they would consider giving one of these wonderful dogs a home."
Tim Ford, the Garrick's Artistic Director, commented: "We were thrilled to discover the Hall Green Greyhound Trust and meet Teddy – she is a true star, so calm and collected on stage and she'll even have her very own dressing room! She's a brilliant addition to our community cast and we can't wait for audiences to see her on stage in the musical."
Teddy and Sharan can be regularly seen at the Hall Green Greyhound Trust's monthly walks in Beacon Park (10.30am on third Sunday of every month) when over 40 local greyhounds plus their owners walk with the kennel dogs to socialise them.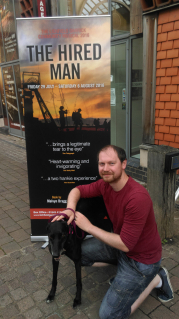 Teddy will be in the foyer to meet her new fans after each show and will be helping to promote the Hall Green Greyhound Trust.
Sharan added: "So many people get involved in the Retired Greyhound Trust, but we're always looking for new volunteers to walk our dogs from kennels in Shenstone Woodend village, and to help out at our awareness road shows and fundraising events."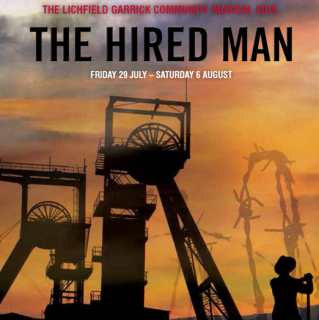 Set against the backdrop of the Cumbrian Lakes, The Hired Man follows the timeless story of a young married couple and their struggle to carve a living from the land, just as the traditional rhythms of country life are swept away by the gathering storm of war in Europe. 
Tickets are £15 (adults), £12 (students) & £10 (group) and can be bought by calling the Lichfield Garrick's Box Office on 01543 412121.