Remembrance Events and Services in Lichfield
Lichfield is home to some wonderful venues which are perfect for the upcoming tributes taking place to remember those who lost their lives in battle.
Here's what's on in Lichfield.
7th November – 20th November:
Field of Remembrance - The official opening of The Royal British Legion's National Memorial Arboretum Field of Remembrance will take place on 7th November and will stay open until 20th November.

Thousands of poppies will be planted in the fields, each a tribute carrying a personal message. Visitors can come and see the magnificent poppy field.
Friday 11th November:
Armistice Day – Celebrate Armistice Day at the National Memorial Arboretum, where there will be a service, which will be broadcasted on screens within the Visitor Centre, Restaurant and Millennium Chapel. The afternoon Welcome Talk, without silence, will take place at 2pm in the Millennium Chapel.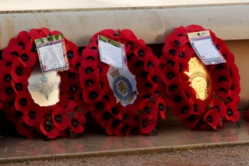 Poppython - Visit Big Will's Tattoo Studio for their special Remembrance Day "Poppython". If you would like to help raise money for the British Legions Poppy Appeal, visit Big Will's Tattoo Studio, where they will be doing traditional poppy tattoos for £20.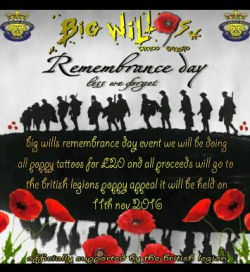 Contact the studio if you would like to get one. All money goes to the British Legions Poppy Appeal.
'Conversations With the Past' - Free Light and Sound Show - Come along to a free light and sound show to commemorate the role people of Burntwood.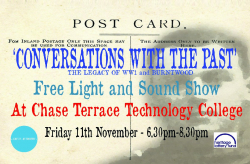 Brought to you by Luxmuralis, the team behind the Before Action' Installation at Lichfield Cathedral, this moving art installation will be at Chase Terrace Technology College and everyone is welcome to see the amazing tribute.
Sunday 13th Novemeber:
Remembrance Sunday - The annual outdoor Remembrance Sunday Service at the National Memorial Arboretum is the perfect place to commemorate those who lost their lives in battle.
This is not a ticketed event and everyone is encouraged to attend. While there you can explore the Arboretum's grounds and use the wide range of facilities.
You can also visit the beautiful Garden of Remembrance located in the heart of the city. The garden is an attractive as well as peaceful garden, which serves as the perfect place to pay respects in a tranquil environment.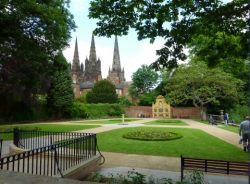 Located by Minster Pool and with the striking spires of Lichfield Cathedral looming over, the Garden of Remembrance is a must-visit. 
If you are hosting a Remembrance service or event happening in Lichfield that we don't know about, remember you can add it to the site!