The ground-breaking seminal album, released on August 5th in the year England won the World Cup, is widely regarded as one of – if not the – best ever, revolutionising the world of rock and pop music.
Now a sought-after early pressing is being sold by a record enthusiast from Sutton Coldfield through Richard Winterton Auctioneers at The Lichfield Auction Centre, in Fradley Park, Lichfield.
This version has the rare XEX 606-1 matrix engraved between the run-off grooves on side two, signifying that it contains a different master of the LP's jaw-dropping closer Tomorrow Never Knows – one of the most influential psychedelic tracks in the world of music.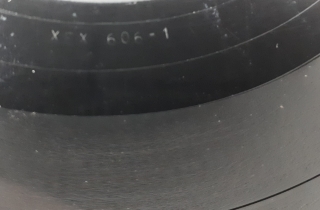 "This version has a longer fade-out with more prominent piano as the track draws to a close," said Mr Winterton, auctioneer of TV's Bargain Hunt and Dickinson's Real Deal.
"By all accounts, the first copies from the production line were presented to each of the Fab Four.
"After playing his, John Lennon was unhappy with the final track and requested that the mix be changed or replaced, which it was as a matter of urgency.
"It is understood that these copies marked 606-1 were made for just a few hours before the instruction came to stop."
He added: "Known as 'Remix 11', this a very rare version of a ground-breaking Beatles track and one which has not otherwise been issued."
These limited first pressings bear the side two matrix number XEX 606-1; subsequent standard presses have XEX 606-2, 606-3 and so on.
The record label also lists the side two track Doctor Robert as 'Dr. Robert' – which too was changed later in production because composer John Lennon did not want the title abbreviation.
Yet interestingly, the abbreviated title stayed on the LP's outer sleeve – presumably because Lennon didn't spot it!
The record is in its original inner bag and housed in a Garrod & Lofthouse Ltd front laminated flipback sleeve, with small 'mono' on the front cover.
Today, these early pressings of Revolver are highly sought-after by collectors and can change hands for more than £80.
As this copy is included in a lot with other Beatles classics A Hard Day's Night, Sergeant Pepper's Lonely Hearts Club Band and Abbey Road and various other LPs, the price could run into hundreds of pounds.
The album features in Richard Winterton's Technology Sale at The Lichfield Auction Centre, Fradley Park, just off the A38, on Monday, October 22.
As well as hundreds of collectable LPs, 45s and music memorabilia, the auction will feature vintage and modern hi-fis, turntables, reel-to-reel recorders, mixing consoles, cameras, film equipment, amplifiers, speakers, video games and computers, including an early Apple II dating back to 1977!
Experts at Richard Winterton Auctioneers carry out regular free valuations at The Trinity Centre, Sutton Coldfield. The next event is from 2-3.30pm on Monday, October 29th.
The Lichfield Auction Centre also provides free general valuations on Tuesdays from 9.30am-4pm and free jewellery valuations on Fridays from 9.30am-4pm.