Providing a Personal and Fitting tribute to your Loved One
While funerals are an emotional and difficult time for those who have lost a loved one, they are also a great way to give your loved one the send off they deserve, and are often a reflection of the life they lived as well as the person they were.
Sometimes you hear of cases where someone's funeral didn't seem fitting for them, which isn't nice for those grieving. It doesn't help that we don't like to think about death so we are often reluctant to discuss what we want at our funerals.
Like any ceremony or event, there's a lot to consider when arranging it. Things like the type of funeral as per the deceased's wishes; burial or cremation; the type of coffin/casket required; the venue; the date; the music and so fourth.
When it comes to choosing who will help in arranging the funeral, you want a funeral directors whose aim is ensuring your loved one gets the send off they deserve.
J. Howell & Daughters Ltd, Lichfield's only independent funeral directors, have been helping with the arrangement of funerals for years.
As a family run business, they go out of their way to make the funeral arrangement as stress-free as possible and provide a personal level of service throughout the process.
They will work alongside you from the moment you make contact, as well as after the funeral – their doors are always open.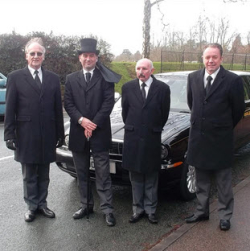 They can help arrange many types of funerals, from traditional funerals to green funerals as well as non-religious funerals. But more importantly, they will help arrange the funeral your loved one deserves.
Here's what a client said about J. Howell & Daughters:
"We just wanted to say thank you again for the way you conducted Ian's funeral and your help and support. You certainly made the process very easy for us, which really helped us at a difficult time. The care you showed us throughout, was outstanding and we wish you every success. Sincere thanks from us all." – Alyson & Elaine
For a local independent funeral directors in Lichfield who provide a personal and professional service, call J. Howell & Daughters on 01543 401019.