New Showroom opens in Lichfield for all your home furnishing needs
I was totally in my element this morning when I was invited to the brand new Interior Choice showroom on Eastern Avenue.
Situated on the first floor of another of our recommended businesses SureStore, it's a perfect match.
My fingers were itching to feel the beautiful sample fabrics that they have for you to choose.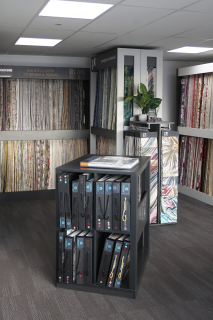 They have some fabulous displays including fabrics from PT, ILIV, Voyage, Romo, VillaNova, and Curtain Express to name just a few.
Prices to suit every budget from £8 up to £200 per metre, with over 5,000 choices available there is definitely something for everyone.
Their relaxed approach gives you the opportunity to browse in your pre-booked individual appointment with the team on hand to answer any questions.
They are confident about the excellent service and a product that will grace your home for years to come, they are offering you a 3 year guarantee on all make-up and fitting, you won't get that on the internet!
With a selection of Silent Gliss tracks for you to choose from they certainly are catering for your every need.
To tempt you even more they are currently running a 20% off their Curtain Express range. Check it out right here.
What are you waiting for book your exclusive appointment today, at a time to suit you even after hours.
Book via their website, FaceBook, email or by phone on 01543 406162.
Don't take my word for it check it out for yourselves, you won't be disappointed. 
Photo credit: Chris Day