MARILYN URGES PEOPLE TO SUPPORT ST GILES HOSPICE RAFFLE IN MEMORY OF HER BELOVED HUSBAND RICHARD, VICAR IN LICHFIELD
Marilyn Bailey, whose husband Richard was the local vicar for St John's Church in Shenstone and St Peter's Church in Stonnall, believes that supporting events like the raffle ensures that St Giles Hospice can be there for people like Richard and his family when needed. 
Richard was a regular visitor to St Giles for a number of years, going to see members of his church who were patients at the hospice. When he was diagnosed with cancer he and his family knew how much support the hospice could provide, Marilyn said. 
Richard had extensive treatment before the family was told by the hospital that he would be referred to St Giles for their support. "We were introduced to one of the St Giles doctors and a community nurse who were both so knowledgeable and so willing to help," she added.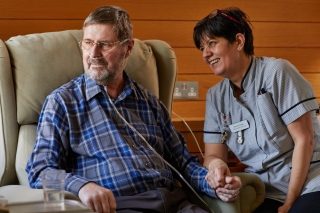 "The hospice team were there for the whole family, including our pets, and that was really important to us. Our little dog Hollie was a regular visitor on the ward to see Richard. The reception staff even had dog treats especially for her."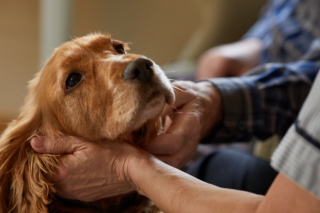 Richard went into the hospice for three weeks for support, and to manage his symptoms, which allowed him to return home for a while before his condition worsened. When he returned to St Giles for the final time Marilyn noticed immediately that each room was named after a local village - and his room was called Shenstone. 
Marilyn added: "It was almost as if this was meant to be, when I saw the name on the door and it echoed the fact that Richard felt so safe and secure when he was at the hospice. The building is lovely and welcoming and the grounds are beautifully kept and so peaceful, but it's the people that make the difference. 
"The team at St Giles were open and honest with us as a family and that was very important to us. This not only helped him, but all of us.  We all really appreciated such dedicated people there who took the time to have the conversations to really make sure we knew what was happening. 
"When Richard died the whole family was there, along with our three dogs. We formed an escort, humans and dogs alike, to walk down the corridor to say goodbye. That was a moment I'll treasure and remember and it couldn't have happened anywhere else." 
It costs more than £9 million to provide the care St Giles offers every year and the hospice believes that there are another 1,000 people locally who could benefit from its specialist care if funds were available. 
Tickets for the hospice summer raffle are now on sale at £1 each and goodies up for grabs include a first prize of £8,000 or a brand new Kia Picanto car from Burton Kia, a Mediterranean holiday and other cash prizes. 
Every ticket sold in the hospice's summer and Christmas raffles contributes towards funding the important work St Giles does in supporting people in the local community.
St Giles Lottery Manager Alison Jerram said: "Whether someone buys a ticket in memory of a loved one, to support their local charity or to have a flutter, every £1 ticket sold helps us to continue supporting local people like Richard, Marilyn and their family. "The raffle is a great way for our supporters to have fun and win some fabulous prizes with the satisfaction of knowing that they are also helping to fund St Giles so that we can be there in the future for them and their family and friends when they need us."
Anyone wanting to join the draw can find out more details or buy raffle tickets online until 30th June at www.stgileshospice.com/raffle/ or by calling the Lottery Office on 01543 434020.
Photo captions: Richard and Marilyn; Richard with a nurse at St Giles; Hollie the dog visits the hospice.