Saturday 23rd March will see the more than welcome return of the Sleaze Brothers. Since forming in 1986, the Sleaze Brothers had a vision. It hadn't always been the Blues but, late into a hot, sultry night in an isolated barn on the outskirts of Lichfield the seed of an idea began to take shape spawning the most dangerous Blues this side of Bloxwich. They played everywhere from after hours clubs and black-light bars to the old Lichfield Arts Centre and even once in a prison, but to little acclaim. The eight piece band, with a brass section and full time singers, have a set list that ranges through blues, rock, and soul, with a sound that draws on spirited singing, soloing on keyboards, saxophone, and guitar, and a strong rhythm section, this is a serious band that promises a good time.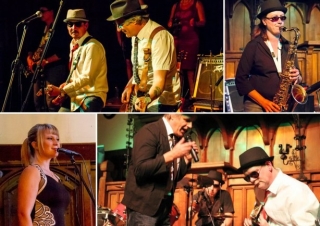 Blues, soul and rock 'n'roll classics played with verve, combine to get you stomping your feet, dancing and singing along. The Sleaze Brothers have a great sense of fun and don't take themselves too seriously, but make no mistake, there is real musicianship in the band. Don't miss out on this evening that is guaranteed to blow your cares away!
Ashley Hutchings will also be returning to the Guildhall on Sunday March 31st, to discuss the early days of Fairport Convention, arguably one of the more important bands in the English folk rock scene of the early 1960's.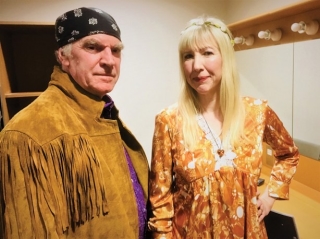 Lauded by Bob Dylan, and every other folk musician of importance, Ashley Hutchings MBE has had a storied and eventful career in Folk and world music. From his time as a founding member of Fairport Convention, time as a session musician and record producer, and involvement with such groups as Steeleye Span, The Albion Country Band, Morris On, Rainbow Chasers and Lark Rise Band his devotion to English folk music knows no bounds.
He has put together a new and entertaining words and music show entitled, The Beginnings of Fairport Convention. As a leading founder member of Fairport back in 1967 he is in a great position to tell the story of the start of Britain's favourite folk-rock band. Ashley teams up with Becky Mills to present the show which is informative, funny and full of wonderful music. Ashley has thrown in some great stories of the music scene in London in the late sixties. Stories which include Jimi Hendrix, Bob Dylan and The Beatles' Sergeant Pepper album, and much else besides.
For further information, and to book tickets visit www.lichfieldarts.org.uk phone 01543 262223, or call into the Lichfield Arts Box Office in Donegal House on Bore Street.