Hasn't this year flown by! Already Christmas is upon us and with it, the time to decorate your home and garden for the festive season.
Lichfield Garden Centre, at Curborough is having over 600 Real Christmas Trees delivered from Mid-Wales, all ready for putting into your lounge to give pleasure over the festive period – but how do you best look after them?
There are many types of Real Christmas Trees, ranging from the traditional Norway Spruce through to the more popular Nordman Fir. The Nordman has become so popular because it is one of the best trees for needle retention (so that your carpet stays carpet coloured and not covered in tree!).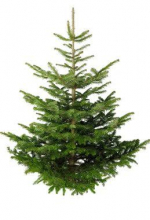 It is also soft to the touch, so ideal if you have small children at home – it is also easy to decorate and generally very bushy, so giving good value for money.
Whatever tree you choose, there are a few simple rules to follow:
Keep your tree watered:
This is the most important part of the process. Once a tree has been cut, it is no longer able to find water itself – so you will need to water it regularly.
There are numerous designs of Christmas Tree Stand which incorporate a water 'reservoir', so keep this full of water at all times. A medium tree can drink up to 3 pints of water daily!
Select your tree early in December:
This should give you the best selection in terms of choice of sizes and shapes.
But once you've purchased, keep the tree outdoors until you are ready to decorate – this will keep it looking better for longer.
Keep your tree away from heat:
If you can, turn off any radiators or fires that are alongside the tree. Again, this prolongs the life of the tree. If you want to grow your own tree year after year, garden centres often sell Pot Grown and Containerized trees.
Choose the Pot Grown option here, as containerized trees have previously been grown in open ground and are less likely to succeed when planted out as roots will have been cut to make it fit the pot. Another tip with Pot Grown trees is to keep them outdoors as long as possible.
If you do take them indoors, acclimatize them after Christmas to the lower outdoor temperatures to reduce stress, and as before, water regularly and keep away from direct sources of heat.
The Christmas Shop at Lichfield Garden Centre has a huge selection (650!) of Cut and Pot grown Real Christmas Trees, as well as homemade wreaths and garlands. The Shop also sells a fantastic range of Lights, Baubles, Christmas Ornaments and more!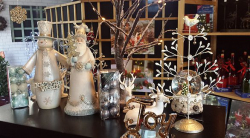 For all your Christmas essentials, visit Lichfield Garden Centre at Curborough Countryside Centre.