n line with the latest Covid-19 restrictions due to come into force on Thursday, November 5, The Lichfield Auction Centre will be closed to all members of the public from 5pm on Wednesday, November 4, until further notice.
"The ongoing work we have done to revolutionise the business allows us to operate within the latest guidelines in a completely safe environment," said a spokesman for the firm.
"All viewing and valuations at our premises will stop and Thursday valuations at The Hub at St Mary's in Lichfield city centre are also cancelled until further notice.
"However, we continue to offer 'virtual valuations' with auction estimates and advice available digitally throughout Lockdown – simply visit our website for information on how to get the ball rolling.
"As our auctions already take place safely online-only and strictly behind closed doors we are not expecting any change to our sales programme. In terms of the 'new normal', it's mostly business as usual."
Antiques & Home Sales are scheduled to take place on Mondays November 9, 16 and 30 and December 7 and 14 – the latter to include specialist medals, militaria, stamps and wines.
Pick-ups of won lots are possible with a contactless 'click and collect' system strictly by appointment.
Telephone 01543 406124 or email office@richardwinterton.co.uk.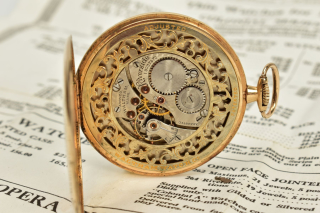 Pictured is an ultra-slim gold Waltham Opera Watch (Lot 64 in Monday's safe, online-only auction) identified by specialist Heather Callaway during a recent valuation at The Hub at St Mary's. People can still access the same free, expert advice during lockdown with the Virtual Valuation service.
The pocket watch comes with original box and papers proclaiming it to be 'the thinnest reliable watch made' and is estimated to fetch between £600 to £800 at the online-only auction on Monday, November 9.