Lichfield Garrick Celebrates Record Visitor Numbers Over the Festive Season
As the curtain comes down on another festive season at the Lichfield Garrick, the theatre is proud to announce that a record number of patrons enjoyed the variety of shows on offer.
On top of the theatre's sold out and critically acclaimed 5-star rated pantomime, Sleeping Beauty, the Lichfield Garrick's festive offer included; Crimes Against Christmas, a co-produced 'anti panto', Dear Santa, a magical family show, and a Comedy 42 Christmas Special.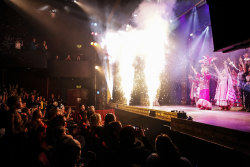 In all, over 30,000 people flocked to the theatre to enjoy the performances!
Karen Foster, the Lichfield Garrick's Executive Director, said: "In December we welcomed the equivalent of the entire population of Burntwood or Rugeley and nearly the equivalent of Lichfield City residents into the theatre. This is an amazing achievement for an independent venue such as the Lichfield Garrick. 
"The critical acclaim the theatre has received in the press is wonderful and the feedback from the public who loved the shows is incredible. We would like to say a huge thank you to our wonderful actors and musicians for making our festive performances so successful."
Sleeping Beauty was the first pantomime co-produced with Evolution Pantomimes at the Lichfield Garrick. The productions has been widely regarded as the best pantomime the theatre has put on to date, with fantastic reviews shared by both press and patrons.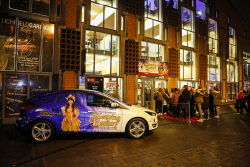 In another first for the theatre, Crimes Against Christmas, a new comedy thriller co-produced in-house with New Old Friends, ran in the evening in the Studio Theatre which helped to bring in new audiences beyond the family shows.
The show has now opened at the Theatre Royal, Bath, further adding to the Lichfield Garrick's name as a producing house.
Tim Ford, Artistic Director of the Lichfield Garrick, who directed Sleeping Beauty and co-produced Crimes Against Christmas, further added: "We have been thrilled by our patrons response to our festive programme and it's been a delight to work with the cast and creatives on these productions. To have so many shows sold out is an incredible achievement and a testament to all the hard work that the team has put in over the past year."
Preparations have already begun for 2017's pantomime, Aladdin. Two of the stars of Sleeping Beauty have already confirmed that they will be returning to perform; Sam Rabone as Widow Twankey and Ben Thornton as Wishy Washy.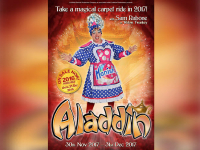 Aladdin promises to offer even more comedy, fun and entertainment for the whole family while taking audiences on a magical carpet ride of an adventure. New Old Friends will also return with a brand new show for December 2017.
The theatre will be announcing more information and cast line-ups for Aladdin in the spring. Tickets are now on sale from the Lichfield Garrick's Box Office on 01543 412121 or from the website.