Lichfield Cathedral Welcomes Students from Palestine
26th July 2016
... Comments
---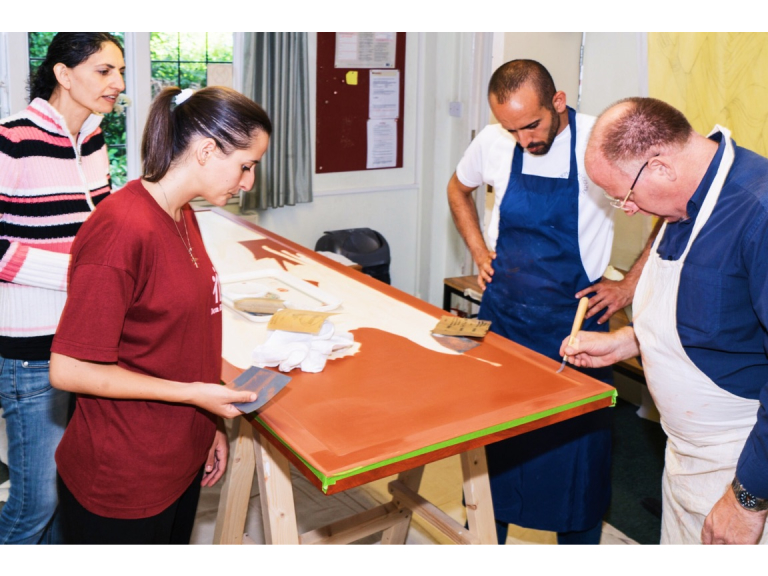 Icons have been part of the Christian Church from a very early period, and are considered to be special art works that can bring individuals closer to Christ. The first two icons being written for the Cathedral this summer will represent the Archangel Gabriel and Mary, the Mother of Jesus (to whom the Cathedral is dedicated, along with St Chad.)
Ian Knowles, Director of the Bethlehem Icon School, has brought three students to work with him on site at Lichfield Cathedral.  Visitors to the Cathedral can see the students at work, as they write the Icons from 1400-1630 every afternoon in their studios in the Old Stables in the Cathedral Close.   
The Cathedral will also be hosting talks which will allow visitors to gain a better understanding of iconography, and of Christian culture and identity in the Middle East. The students from the Bethlehem Icon School are staying in accommodation in the Cathedral Close and are already experiencing a different culture and finding out more about life in the UK. 
The Very Revd Adrian Dorber, Dean of Lichfield says: "This is a really exciting and creative project. The Bethlehem Icon School is training young Palestinian artists in a form of Christian art that first began in the Holy Land.  Recently their training has been accredited by the Prince of Wales' School of Traditional Arts and Skills. Our commission benefits the Bethlehem Centre by providing an important UK venue for its work but it links us in Lichfield with an unbroken form of Christian art that speaks engagingly and beautifully of the Christian Story.  
"As a place of pilgrimage and worship, I believe these icons will help all our Cathedral visitors to pray and get a glimpse of God's generous love:  his invitation to align our lives with his. We also hope that by having the staff and students in Lichfield for the whole summer, local people can get to hear of the struggles people in Bethlehem face but also learn much from the students' faith and resilience." 
Students from Palestine will return next year to complete a third Icon, encapsulating the Crucifixion and Transfiguration of Christ.
To find out more about the Icon project and seeing the students at work, please contact Lichfield Cathedral on 01543 306100.