Lichfield Cathedral, Finding the Next Turner!
On Saturday 20th August, artists are invited to set up their easels and tripods to paint or photograph the Cathedral. 
A panel will select the best image from the afternoon and the winning artist will receive a special prize. This will also include having their artwork exhibited in an exhibition at the Lichfield Cathedral in the summer of 2017.
This special exhibition Lichfield Cathedral, A View Through Time will showcase number of works by Masters, including Lichfield Cathedral from the South West painted in 1832 by J W Turner.
This particular work was recently bequeathed to the Cathedral and will be on show at this exhibition for the first time in many years.
The winning painting will be framed by one of the leading framers in the UK, Kingswood Frames, in preparation for the exhibition. The winning photograph will be printed as a 20x30 inch canvas print provided by Frosts Photo Centre, again in preparation of the exhibition.
Participating artists have will have three hours (from 1pm – 4pm) to capture an image of the Cathedral and those registered will then have a further amount of time to complete the work before the judging takes place.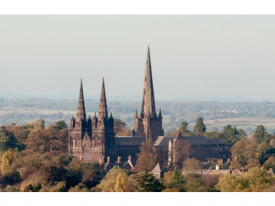 Any style, realistic or abstract and any media is allowed. Painting and photography will be judged equally with the event open to professionals, amateurs and anyone who would just like to have a go.
Peter Walker says: 'For hundreds of years' artists have captured images of the Cathedral, in today's world it is quite easy to forget to look at things around us, for artists this is not the case. Therefore, to invite artists to come collectively to paint, photograph or draw the beautiful architecture will bring new focus through contemporary art forms to represent the Cathedral in our day and age.'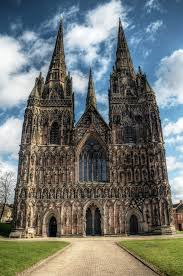 Jason Dyer, Development Director for Lichfield Cathedral says 'We are excited to be showing the Turner Watercolour of Lichfield Cathedral next year. This very special event is the perfect precursor to this, showing how we all can interpret the beauty, history and spirituality of the Cathedral in very different ways, just as Turner and other great artists have done so through time'
Interested artists need to register in advance with Lichfield Cathedral by email to Jason.dyer@lichfield-cathedral.org and attend on the day to participate in the competition. Artists must provide their own materials, easels, chairs and cover in case of bad weather.