With a cash prize, the competition is sponsored by Dame Oliver's, in Dam Street, Lichfield, and entries in any medium, including watercolour, acrylic, oils, pastels, charcoal, pencil, pen, and collage, but no photography are invited. Entries must be no larger than A1 size, and easily framed.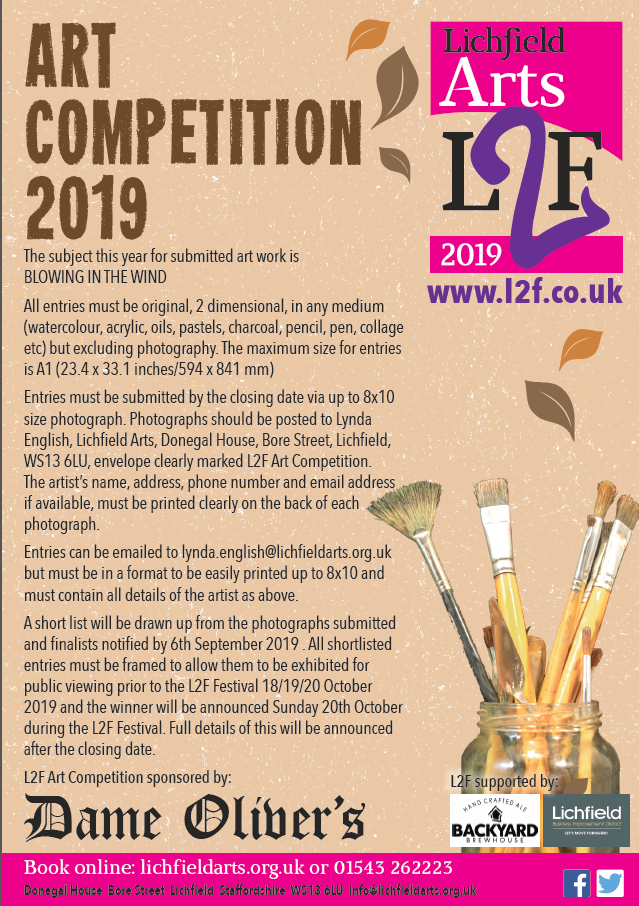 Entries must be submitted by the closing date of Friday August 3rd, via an up to 8 x 10 inch photograph. Photographs should be posted to Lynda English, L2F Art Competition, Lichfield Arts,
Donegal House, Bore Street, Lichfield, WS13 6LU. The artist's name, address, phone number and email address must be printed on the back of each photograph. Entries can also be emailed to Lynda.English@lichfieldarts.org.uk but must be in a format that can be easily and clearly printed up to 8 x 10, and must contain all of the details of the artist. 
Finalists will be notified by September 6th 2019, and all shortlisted entries must be framed prior to going on public display at L2F 2019, between October 18 and 20th. The winner will be announced during L2F on Sunday October 20th.
A Lichfield Arts Spokesman said 'L2F encourages creativity, and a sense of wonder and learning, and this competition offers talented artists the opportunity for their work to be seen and appreciated.
The theme is open to all sorts of interpretations, and we look forward to seeing what artists can do.
Previous entries have been of a high standard, and we hope that this year's competition continues to both amaze and impress us'