There's nothing better than sunny weather in this country, but extreme heat can be harmful for our four-legged friends.  
 Here are some tips on how to ensure your dog is safe in the sun: 
- When you go for a long walk with your dog, ensure you bring a bottle of water for your dog and yourself. Heat waves are also known to dehydrate dogs quickly, so try and take your dog out for a walk during cooler times of the day. This can be early morning or in the evening. 
- If you have to take your dog with you in the car, ensure that it is as cool in there as it can possibly be. Open all windows to keep the fresh air in, put the air conditioning on, ensure your dog has plenty of water to drink and of course don't leave your dog in the car. 
 - If possible, bring outside dogs inside on hot days. If not, ensure they have a cool, shady hideaway and plenty of clean, fresh water. 
- Take your dog on a trip to a dog groomers, especially if they have long or thick hair. They should be able to provide your dog with a 'summer cut.' 
- Let your dog stand in cool water. If you have a paddling pool or anything like that, letting your dog stand in it will cool them down. Even a quick foot soak will help cool them down. 
If you would like to speak to professionals on how to keep your dog or any of your other pets safe during these hot days, talk to the team at Pool House Vets. 
Every member of the Pool House team is committed to animal welfare. They have been recognised for providing a first class service.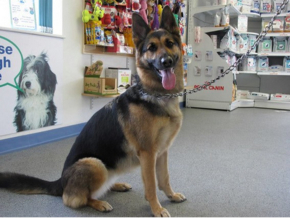 Pool House Veterinary Group operate in four practises within the local area, with practises in Lichfield and Burntwood, as well as in Armitage and Sutton Coldfield. 
So if you're looking for the best when it comes to pet care in Staffordshire, call Pool House Veterinary Group now on 01543 406126.