It's Official Santa & his Sleigh are on their way to Lichfield!
29th November 2019
... Comments
---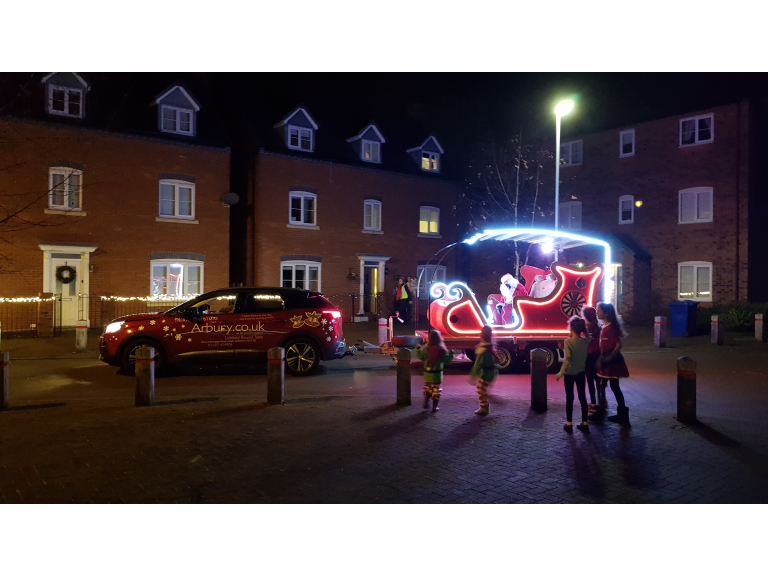 The Sleigh season is delivered by volunteers giving up their own time to spread a little Christmas cheer and to support local charities.
This year's Lichfield Santa sleigh will kick-off from Netherstowe on the 1st December 2019. Check out the full list of routes, dates and track Santa live at http://www.lichfieldsanta.co.uk and on the Lichfield Round Table Facebook page https://www.facebook.com/LichfieldRoundTable/
1st December: Netherstowe
2nd December: Boley Park & Quarry Hills
3rd December: Purcell Avenue Area
4th December: Boley Park & Roman Way
5th December: Boley Park Birchwood Road area
6th December: Beacon Street & Gaia Lane
7th December: Longdon & Kings Bromley
8th December: Shenstone
9th December: Eastern Avenue
10th December: Boley Park & Broad Lane
11th December: Cherry Orchard
12th December: Darwin Park
13th December: Trent Valley area
14th December: Streethay
15th December: Fradley
16th December: Stonnall
17th December: Shortbutts Lane, Birmingham Road and Agincourt
18th December: Grange Lane & Stafford Road
19th December: Christchurch Lane
20th December: Weston Road area
21st December: Whittington
22nd December: Alrewas
23rd December: Tamworth Road & Borrowcop Lane
Chris Albutt, this years sleigh organiser said: "Sleigh season is the annual highlight of Lichfield Round Table and all of the money we raise is given out to the charities we collect with. We try and reach everyone in the city and surrounding areas over 23 nights and it's an honour to bring huge smiles to the faces of the young and old alike."
"Our new sleigh is finally finished thanks to the new SureStore on Eastern Avenue, who donated a secure working space and storage for the sleigh while we upgraded the lights and sound, we also have a great towing vehicle kindly donated by Arbury Peugeot so we're ready for the festive season!"
"A huge thank you to everybody who donates to our sleigh collections - you will make an incredible difference to the lives of those who receive the money."
Lichfield Round Table is a community focussed social group, open to 18 – 45 year old men from Lichfield and the immediate surrounding areas.
Lichfield Round Table meets every 2 weeks for a social but are dedicated to making Lichfield a better place through volunteering our time and skills in the city if and when needed. If you think you have what it takes to join a like-minded group of blokes - get in touch via our Facebook page. https://www.facebook.com/LichfieldRoundTable/