It's been a Crazy Christmas for this local Lichfield Retailer
No doubt the extra marketing that BID & Visit Lichfield did this Christmas has helped, plus the weather was very mild this year but also all the great events that happened in the City and at the Cathedral bring people in.
They also went online last December with a company called Trouva.com. Unfortunately in October 2017, Lizzy had to have a hip replacement which meant she wasn't allowed on the shop floor, so took the opportunity to finally get the shop online. They started off with a few hundred products last year and decided to see how it went.
Lizzy says, "the extra sales over the Christmas season were pretty good and we realised very quickly that this is a numbers game and so I spent any spare time I had adding on more and more products until by this Christmas we had over 1,000 products online."
The Kitchen Shop, has over 15,000 product lines in the 2 story shop so 1,000 is just a window into what they sell, but the results were astonishing! The girls were packing in the shop most nights until very late and having to forget any days off. Vicky said "we just were not prepared for the amount of orders that came pouring in from all over the world. To the point that one day we had over 60 to package up one night. We will certainly be a bit better prepared for next year, now we know what a difference listing a lot of stock has."
They've also found that the online customers are quite different to the ones who visit the shop regularly. The online shoppers seem to be more fashion led; looking for the more unusual gifts and the higher end stock seems to be popular.
The shop can be found by clicking through here which diverts you to their Trouva listing and products but to get a full look at what they sell, of course it's better to go and visit.
Lizzy says, "To be honest we pay quite a large commission to Trouva to be able to sell on their platform, but we are so pleased with their amazing marketing, I'm not sure we could or would even have the time to replicate what they do. It's very easy to use and really all we have to do is manage the stock level and pack up the parcels, which are picked up every day"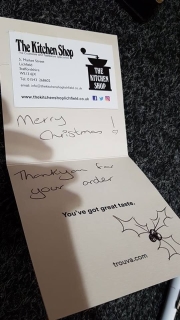 Trouva.com are new and award winning and the website is essentially an online shop for independent, specialist and unusual shops.
Well done team Kitchen Shop and here's to more success online."