Hundreds of cyclists hit road to support St Giles Hospice
Organisers expect the bike ride, which took place on Sunday, September 1, to raise more than £50,000 for the hospice. 
Cyclists chose one of four open road route options – 26 miles, 50 miles, 75 miles or 100 miles – through the Staffordshire countryside, each starting and finishing at the hospice in Whittington, and in total cycled more than 23,000 miles between them. 
Events Manager at St Giles Hospice, Chloe Herbert said that the day had been perfect for the event – dry and sunny but not too hot – and that she was delighted with its success. 
"We've had great feedback from riders who thoroughly enjoyed today," she said. "There's been a lovely atmosphere and everyone has been really enthusiastic. We loved hearing from so many people who took part because their lives had been touched by the work of St Giles. 
"We'd like to thank everyone who took part in this year's event and helped to make Cycle St Giles so special and we'd especially like to thank the riders who raised money for the hospice while they were riding through the beautiful Staffordshire countryside.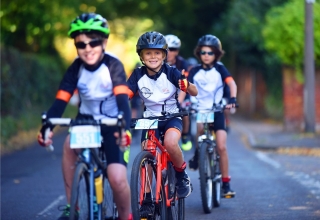 "The support of our fundraisers is so important for funding our services and over the past six years our wonderful cyclists have raised over £225,000 to help people living with a potentially terminal illness in our local community." 
For the first time this year, cyclists were able to become Cycle St Giles Champions, by pledging to take part in both last week's event and the Cycle St Giles Spring event which started and finished in Chasewater Country Park on Sunday 5th May.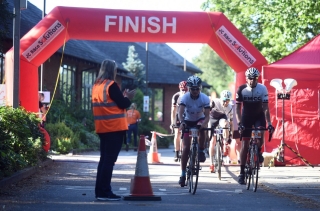 Chloe added: "We always say that it takes a community to make a hospice and our supporters really showed that today. It was really wonderful to see so many Cycle St Giles champions taking part in the ride and we'd like to thank everybody who supported us at both Cycle St Giles events - you really are our champions! 
"We'd also like to thank Dimension Data, the official technology partner for the Tour de France, who sponsored this year's Cycle St Giles events. We are so grateful for their ongoing support, including attendance at our fairs and preparing our registration packs for entrants, which was such a great help." 
St Giles was also supported by businesses including Greggs, who provided brownies and bananas for the goodie bags, and Fyffes, who provided bananas at the feed stations along the routes, along with Higates, who provided brownies for the route. 
Tesco provided volunteers and goodies for the cyclists and South Staffs Water kept the cyclists hydrated with water. 
Local bike firms 2 Wheels Only, Bike Bot and Freedom Cycles also came to the rescue by providing mechanical support to cyclists before they set off and support for any breakdowns along the route.