How to Pick the Perfect Wedding Dress
It is reasonable to say that the wedding dress you choose helps set the tone for the whole day – but how do you pick the right wedding dress without getting completely overwhelmed?
At Elsie May Bridal, we recommend that the first thing you do is plan!
Start looking online at bridal websites, online magazines and bridal shops to get a feel of the dresses that are out there. What style do you like? Would you prefer something traditional or contemporary, white or colourful? BUT don't be surprised if this all changes when you actually try one on!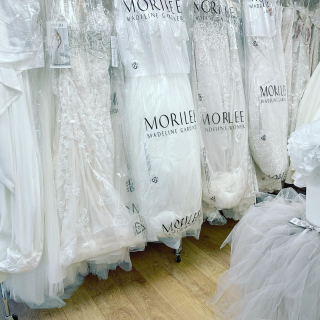 When you start to visit bridal shops, it is definitely worth starting close to home.  It is much easier to go for dress fittings locally than it is to go further afield.  The more you can minimise the stress and "workload" the better.
Spread out your bridal shop visits, maybe one in the morning and one in the afternoon but don't do too many at once as you will have lots of information to digest.  Check whether you need an appointment before you visit.
It's often a good idea to take family or friends with you and "make a day of it" but remember whilst it is good to get a second opinion, it's your dress and it's what makes you happy that is the most important.
Bridal shops should make choosing your wedding dress special and you should be made to feel welcome and confident in your own skin.  Try on a range of styles. A good bridal consultant should help you find the right shape to suit you.
Remember to ask questions e.g. how long does the dress take to order? Do you have an in- house alteration service? How much will this cost?
If you like the very first dress you tried on, then go back to it at the end of the session. The first dress is always a tough one to gauge as at that point you have nothing to compare it to.
Remember, buying a wedding dress is an emotional purchase. If a dress excites you and makes you feel sensational, then what else are you looking for? Go with that feeling. Trust your instincts and you will find it a whole lot easier to say, "yes to the dress".
At Elsie May Bridal we make every Bride feel welcome and we get excited at the prospect of helping you find 'The One' and above all else; we promote Body Confidence to ensure that you feel amazing while trying on our specially selected gowns.  Call in today and see what we have to offer.