Dentures can be an expensive investment, so you want to make sure you look after them to make them last as long as possible.
What can you do to ensure that your dentures are well looked after?
Clean them Daily:
Dentures may not be real teeth, but they should be treated with the same amount of care. Your dentures should be cleaned regularly as you would clean real teeth. Cleaning them daily removes food deposits and plaque, as well as prevents them from becoming stained.
Keep your Mouth Healthy:
Even if you have a complete denture set, it's still incredibly important to keep your mouth healthy. Brushing your gums, tongue and palate every morning before dentures are put in is highly advised. It's also advised to do this whenever you take your dentures out.
Give them a Break:
Dentures can't be worn all the time. They need time out of the mouth. They need to be taken out before you go to bed and placed in a denture cleanser soaking solution or plain water when you're not wearing them, so they don't dry out.
Continue Visiting the Dentist:
Just because some of your teeth may not be real, does not mean you no longer have to visit the dentist. Its especially important to visit your dentist if your dentures chip, crack or become loose.  Never attempt to adjust them yourself!
If you require dentures but are afraid that your smile will no longer look natural, don't worry – Lichfield's local denture clinic can help.
Lichfield Smiles is run by and owned by award winning clinical denture technician Matt Burnell, who will help you achieve a smile so pure that it will be contagious.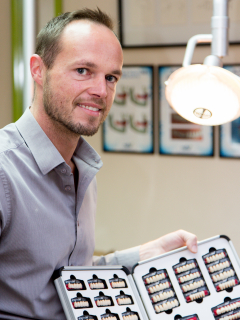 The dentures are designed and made at the clinic, and are specifically designed for you. The dentures won't feel fake either, and will help you achieve a natural looking smile.
They also offer a variety of denture services, such as repairs, relines, cleaning and more.
Lichfield Smiles is the place to go to ensure you get the very best in denture care.