How Hydrotherapy Can Help Your Pet
Hydrotherapy refers to the use of exercises in a pool to relieve discomfort and promote physical well-being. It is thought that the origins of hydrotherapy date all the way back to the early nineteenth century and it continues to be an effective way of dealing with a variety of problems.
Hydrotherapy can also be used for the treatment of chronic conditions, post-operative recovery, and pre-operative or general fitness in dogs.
If you have a dog that requires hydrotherapy, Mobility Matters in Lichfield can help!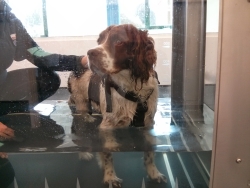 Specialising in Veterinary Hydrotherapy and Rehabilitation, Mobility Matters offer care and support services for cats and dogs to help improve their mobility. Using Hydrotherapy, Physiotherapy, Acupuncture and Chronic Pain Management, they can help your pet recover and improve their mobility.
Hydrotherapy has proven to be a successful method of treating pets, here's an example of how hydrotherapy at Mobility Matters has helped pets:
"Percy suffered from intervertebral disc disease which resulted in sudden onset hind leg paralysis. Over the last few weeks his determination, owners commitment and the teams skills and determination has resulted in him going from strength to strength - he is now almost completely independent, just a few weeks into his journey!"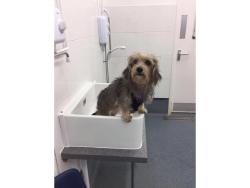 Check out their Facebook Page for more success stories!
The benefits of hydrotherapy include:
• Increased range of movement of joints
• Improved proprioception
• Aids muscle strengthening, maintenance and restoration
• Decreases pain during exercise
• Decreases stress on healing tissues
• Improved cardiovascular fitness
• Reduces muscle spasm and tone
• Increases speed of recovery
• Aids weight reduction
• Improves circulation and lymphatic drainage
• Decreases swelling and joint effusion
• Increases stability to unstable joints
• Aids transition to land based exercises
It can be used to treat various conditions, such as Hip Dysplasia, Obesity, Soft Tissue Injuries, Post-operative fracture repairs, Spinal injuries and more.
So if you think your cat or dog would benefit from hydrotherapy or any of the services provided by Mobility Matters, give them a call on 01543 406125 or visit their veterinary practice at Fosseway Lane, Lichfield, Staffs, WS13 8JY.