Have you heard of the term 'Trunk Show'?
Back in the times of the travelling salesmen, designers would literally take a trunk of clothes to a shop and leave it with them for a few days, then collect the trunk and move onto the next shop.
Today, bridal trunk shows, or the more British term "Designer Weekend" are based on this concept of a store exclusively borrowing a collection of dresses for their customers to come and have a look and try on the latest gowns. These usually take place as the name would suggest, over a weekend.
Focusing on just one designer each weekend gives brides to be the option to really find out more about the chosen designer and they can see the quality, fit, different materials used and get to know signature style of the designer. These exclusive events usually happen just once in each town, and once in each shop, so you won't want to miss out!
Retailers really do make these into lovely events and may have promotions, prosecco, nibbles and special people in store to chat to about your dress such as the seamstress or even the designer themselves!
When a designer releases their new collection, retailers order the dresses they would like to stock in their boutiques. These dresses then take time to be made and, in the meantime, holding a trunk show means they can borrow a collection of dresses, fresh off the catwalk, to showcase to brides-to-be before they are in the shops.
If you're a fashion-conscious trend-setter you will want to be wearing the latest designs before anyone else, so getting to a trunk show would be ideal for you! 
Why shop at a trunk show?
Bridal boutiques will usually only stock dresses from a handful of designers, and only certain styles from each collection – determined by the boutique owners' experience and knowledge of what sells well locally and what suits their customers taste and price point. Shopping during a trunk show means that as well as seeing all the dresses the boutique currently stocks, you will also get to see the very latest designs from the designer you love and things that the boutique might not usually stock… perhaps dresses which are a bit more unique or daring! Most boutiques offer a discount for ordering your dress during a trunk show too!
It's incredibly important to know your budget before you start to visit a trunk show – don't forget to factor in extras such as alterations and accessories like your veil, accessories and shoes. You need to know how much you can spend and be prepared to commit – the dresses borrowed for the trunk show won't be available in your local store again for a while, if ever! 
There you have it fascinating story eh?
If you're looking for your dream dress you need to book your FREE place at the Morilee Trunk Show Spring hosted by the team at2021
Elsie May Bridal Gowns & Accessories
on Friday 26th March.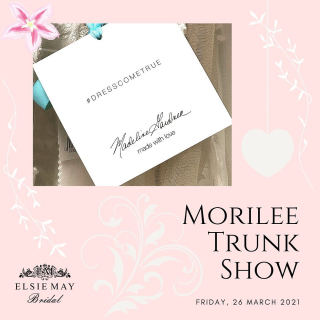 Don't hesitate book your place today on 01543 401041.