Happy New Year From Four Oaks Financial Services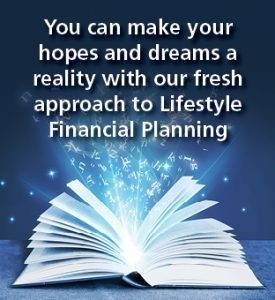 Hopes and Dreams Don't Have To Be Wishful Thinking
It's a New Year, so there is no better time to reflect on the past and look ahead to the future. Last January we launched our new approach to financial planning called Lifestyle Financial Planning.
If you knew how much money you would have at the end of your life, and this was far more than you needed, think how this might affect the decisions you will make.
With industry leading technology and the expertise of our Financial Advisers we work with our clients to project forward not only to the end of their life, but through every stage of their life to show their likely financial situation. This enables you as our client to answer questions such as:
When will I know when I can retire?
Could I change career or go part-time?
Can I give my children money for house deposits and still be able to live comfortably?
What if there is a stock market crash or two, am I still going to be ok?
If you have not yet spoken to your Financial Adviser about Lifestyle Financial Planning, give us a call to request our Lifestyle Financial Planning leaflet or visit our website.
Sporting Sponsorships
We are very proud sponsors of Lichfield Rugby Football Club, and Bilston Town Football Club.  You will see our pitch-side advertising boards at both clubs, and owing to the proximity of our office, you will regularly see our team at Lichfield Rugby Club. We've already held a family day there, had a great time at their Bonfire Night celebrations and attended quite a few matches. It is a great way for our team to meet socially and we've got more events planned for this year.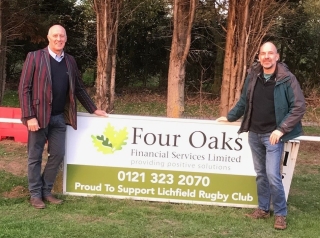 L-R Paul Massey, Chairman – Lichfield Rugby Club.  Simon Trevelyan, Business Development Manager – Four Oaks Financial Services
Quartet Achieve 5 Years' Service 
We were delighted to celebrate 5 years' service with four members of our team.  Emily Walker, Senior Administrator.  Mark Banks, Paraplanner. Louise Lakin, Client Liaison Executive and Financial Adviser Nic Whittaker all received a certificate and gift from the company for their fantastic contribution to our team.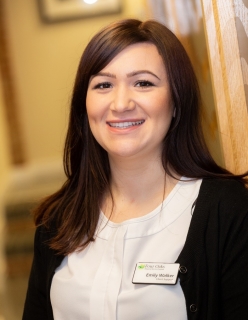 Emily Walker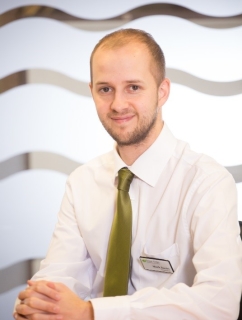 Mark Banks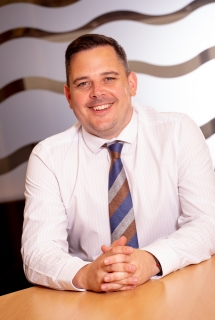 Nic Whittaker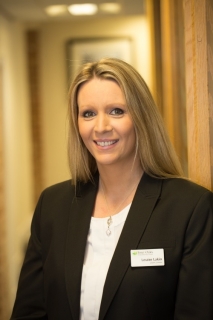 Louise Lakin
We've Had Three Babies! 
Financial Adviser, Yomi Bashorun and Paraplanner, Mark Banks both became new dads last year, and Client Support, Charlotte Holmes became a mum.  Yomi's son was born in May,  Mark's son was born in September and Charlotte's daughter was born in August.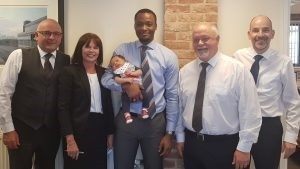 L-R Martin Ward, Lisa Arnold, Yomi Bashorun & Tobi, Ian Cleghorn, Simon Trevelyan
Celebrating Exam Successes 
Last January we launched our in-house training academy to enable our Financial Advisers to become more qualified and to give our support staff the opportunity to progress or even become a Financial Adviser in the future. 
The first exam taken by delegates in the Academy resulted in six out of six passing first time!  
We've had more exam successes throughout the year with qualified Financial Adviser Nic Whittaker passing the tough AF7 exam which means he is now classed as a Pension Transfer Specialist. Paraplanner, Mark Banks has passed all of his exams and is now qualified to the same level as a Financial Adviser.  Charlotte Trueman, Nick Hepburn, Emily Walker and Lily Jackson have all passed one or more professional exam this year.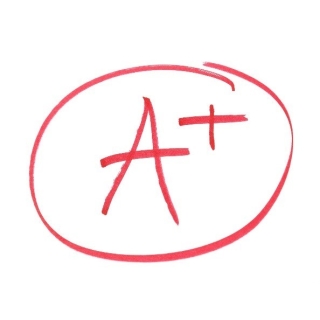 Are You Getting Our Quarterly Magazines? 
Every quarter we send out our quarterly magazines via email.  Essentially Wealth looks at all the hot topics and trends surrounding savings, investments and tax.  Essentially Mortgages provides useful information for anyone getting on the housing ladder, looking to move or stay-put and remortgage.  Don't miss out.  They are free and full of useful information.  Contact our Client Liaison team to make sure you are on the mailing list.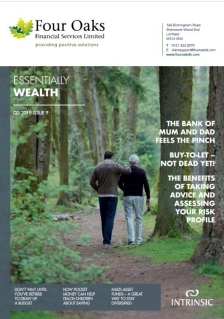 No Wonder We Needed Extra Space 
Six fabulous people joined our team during 2018.  In January Simon Trevelyan joined us in the new role of Business Development Manager.  Ruth Hughes and Nick Hepburn joined our Paraplanning Team.  In April Jessica Allan and Harriet Partridge joined our Client Support Team, we also welcomed our new Receptionist, Olivia Arnold.  And in May, Charlotte Trueman joined our senior management team after being promoted to Head Of Client Support.
So, in November we were very pleased indeed to acquire a further 186sq ft of office space.  We had a bit of a move round, and our team of Advisers now occupy two offices with the Client Support Team in the new office space.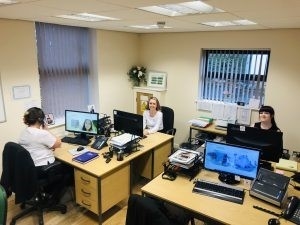 Why No No Christmas Cards…? 
We are very much behind the wonderful work that our charity Buddy Bag Foundation does.  So, this year we decided as a team that we would make a donation to them to help children in emergency care, rather than send Christmas cards. 
Last year we helped pack Buddy Bags on several occasions one of which involved our whole team.  Our team provided onesies for children aged 4 to 6 and we sourced and donated lots of cuddly toys, which is much more difficult that you might first imagine!  We invited them to speak at our annual Golf Day, raising more money, supported other events and had a table at their Charity Ball.  If you would like to know more visit www.buddybagfoundation.co.uk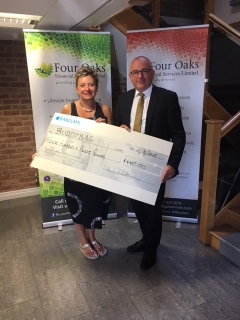 L-R Karen Williams, Buddy Bag Foundation and Martin Ward, MD – Four Oaks Financial Services
New Year Resolutions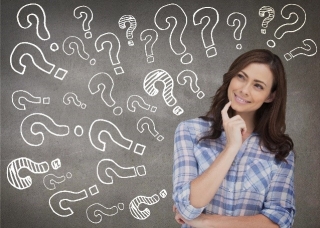 I will use my tax-free ISA Allowance (You've got until 5th April 2019 to use this or loose this)
I will get my Pension(s) reviewed to make sure I am on track for the income I need in retirement.
I will get my mortgage reviewed to make sure I am not paying more than I need to
I will ask my Financial Adviser about a Lifestyle Planning review which will cover all of the above 
T. 01543 401029
168 Birmingham Road, Shenstone Wood End, Lichfield, WS14 0NX