God of Thunder 'Hammers' his way into Theatre's Box Office
26th June 2017
... Comments
---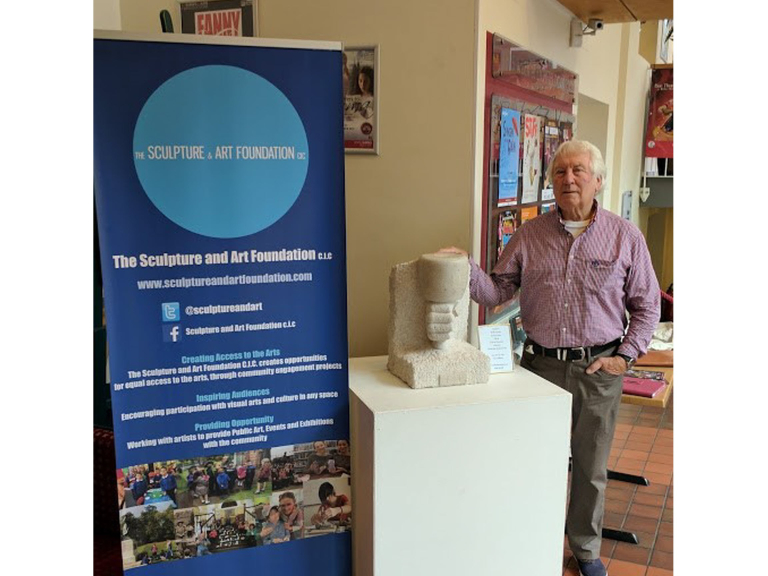 Thor (God of Thunder) by Bob Tweddle is the lasted sculpture to be displayed in the theatre's box office as part of the continuing Sculpture and Art Foundation CIC exhibition in conjunction with the Lichfield Garrick. Made from Derbyshire Hopton Stone, Bob has painstakingly spent over six months in creating this impressive carving.
Bob, from Lichfield, ran a building company in Burntwood from 1973 until 2006 and took up stone carving at Dudley College once he retired.
"My stone sculptures are manly for family and friends but I occasionally take on commissions. I passed a City and Guilds course at Dudley College with credits. I then joined a group of sculptors at Dudley college calling themselves the Shapeshifters." said Bob.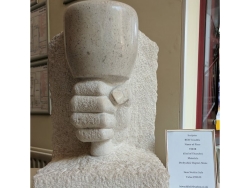 Bob has strong links with the Lichfield Garrick having previously worked at the Civic Centre before it became the Lichfield Garrick.
Bob further added: "I volunteered for several years as a stage hand for the Lichfield Players and The Lichfield Operatic Society. I still keep in touch with them and take in front of house photographs for Shakespeare in the Park."
The Sculpture and Art Foundation CIC are a not for profit fine art organisation whose aim is to increase access, participation and understanding of the fine art forms for sculpture and artwork.
The organisation coordinates the City of Sculpture Project and the Lichfield Sculpture Trail alongside working on many projects over the past 10 years around the area.
Kathryn Walker from the FRAI Sculpture and Art Foundation, said: "We are delighted that Bob's sculpture is the next artwork to feature on Plinth. Bob's work is wonderful and show a real commitment to the art form. We are working with artists of all sculptural disciplines in order show the wide and expressive ways that this art form manifests."
Thor (God of Thunder) is the fourth piece of work to be displayed at the Lichfield Garrick this year. Bob's sculpture will be on display in the Lichfield Garrick's Box Office until September 2017.