Gift Ideas and Places to go this Father's Day in Lichfield
I can't be the only one who struggles to buy gifts for the men in their lives surely? With us all leading such 'busy' lives we thought we'd help with some suggestions for you to treat your Dad this Father's Day right here in Lichfield. Hope you have a rather special Father's Day this year.
 If your Dad loves the theatre you could treat him to a gift voucher from the Lichfield Garrick for any of their upcoming shows or the week leading up to Father's Day there are some great shows featuring at The Garrick including Joe Longthorne,  The Nat King Cole Songbook and the charming Old Herbaceous all suitable for a night out with your Dad! 
For something a little different pay a visit to Lisa's Attic hidden in The Plant Plot garden Centre, they have some lovely curios and small antiques for the man who has everything!
If Dad is Lichfield through and through he's going to love this new book from Jono's Tourism. The A-Z of Lichfield available from SJ Music on Bird St. #BuyLocal just £14.95.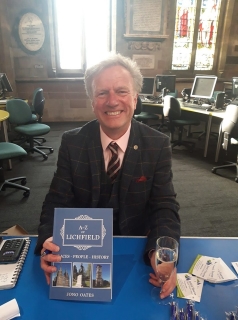 Father's Day lunch couldn't be any more special than at the award winning Strawberry Cabin they have a delicious set menu for you and all the family Including the little ones this year. Make sure book early. 
Does he enjoy delving in some cooking? Then why not buy some innovative gadgets to make his culinary experiences even better by shopping at The Kitchen Shop? They sell stylish and useful gadgets for the kitchen from well-known brands including KitchenAid, Denby, Cuisinart UK and more!
Treat him to a heartwarming #SundayRoast with Bradshaw's Farm Shop & Cafe, other choices are available, early booking essential. They also have gifts to tempt you in their farm shop including a few tipples from Clive's Wines, definitely worth a try if you've not tasted them before!
Just around the corner is the hidden gem of Greenhills Nursery a traditional small family run nursery that sells good quality plants. Worth a visit.
A gift from The Cheese, Gin & Ale Barn at Curborough won't go amiss. With so many different gins to choose from or real ales or a cheese gift platter or book a gin tasting? The choice is endless. They also stock a selection of wines from local producer Clive's Wines grab a bottle while you're there!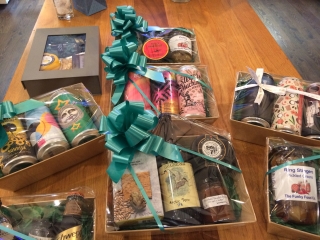 For a unique gift, get him some artisan handmade bread from Hunnypot Cottage Designs. Whether it's baguettes, hot cross buns, croissants, focaccia, full English breakfast rolls or pain au chocolat, they have a wide variety to offer as well as many different flavours. Or he may want to make some of his own, how about a Bread Making Voucher? They he can use to make bread in his own kitchen. 
If he loves his garden how about a gift voucher from the Lichfield Garden Centre he can make his own choice then for either plants, tools or a coach trip throughout the year!
Does he need a new watch or some new jewellery? Then visit ES Jewellery. They not only sell a wide range of contemporary and exclusive jewellery and watch brands, but they also offer jewellery repairs and even commissioned pieces, for something that extra special.
For something unusual perhaps he's thinking of a tattoo or piercing? Why not book him a session at the outstanding Project Zero on Tamworth Street, accomplished artists that will put him at ease.
Chapters The Cafe in The Close at Lichfield Cathedral is also offering you a relaxed #Sunday Lunch this Father's Day but do book they get incredibly busy.
With all that, there really is such a variety of gifts ideas and places to visit in Lichfield this Father's Day.