GB hopeful helped on way by Lichfield leisure centre
Amateur athlete Jon Read, who lives in Lichfield, recently qualified to represent Great Britain at the World Championships, taking place in Penticton, Canada this August. He will be competing in the standard distance duathlon event in the age group 30 to 34.
The duathlon is made up of a 10k run, followed by a 40k bike ride, and a 5k run to finish.
Jon qualified at the Clumber Park standard distance duathlon event near Worksop, Sheffield in April 2017. He came fourth in his age-group in a gruelling race with many other high level amateur duathletes.
Jon has put his success down to upping his training effort and also to Friary Grange Leisure Centre's instructed Wattbike classes. He says these indoor sessions have proved especially helpful over the winter months when icy roads are harder to train on.
Of his training, Jon Read said: "The structured Wattbike session programme provided by Phil Kelly have transformed my winter training and contributed heavily to my achievements in the spring.
"To have a tailored workout plan which maintains performance throughout the winter ready for spring-time has been invaluable. Of course, it's been up to me to hit the programme goals, but without the plan, the benefits simply wouldn't have been possible.
"Wattbike classes are great to attend - I've made true friends at the classes, all of whom are looking for differing improvements. The comradery between us all striving for development in fitness, condition and performance is second to none.
"Having achieved such a feat, I feel it's important to give thanks where others have contributed. I'd like to thank Phil and all the team at Friary Grange Leisure Centre, and its facilities.
"I am still training at the Wattbike classes, ahead of the World Championships this summer. Fingers crossed for a top performance in Canada, and then I can express my thanks once again!"
Friary Grange Leisure Centre is part of Team GB Gold Club, which offers athletes exclusive discounts and benefits. And, to help send Jon on his way, the leisure centre has offered him a free membership in the lead up to the championships. This includes free use of the Evolve Fitness gym and of course the Wattbike classes.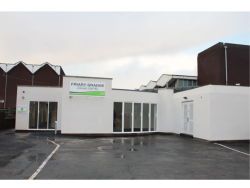 Phil Kelly, Friary Grange Leisure Centre Manager, said: "It's fantastic that our Wattbike classes have been so instrumental in helping Jon to qualify for the championships.
"We know that he has to finance the trip himself, and pay for his kit and entry, so we are very happy to support him by offering a free membership to the leisure centre in the lead up to the event.
"All the team here at Friary Grange Leisure Centre are very proud of Jon, and we wish him the very best of luck for Canada."
Wattbikes are static bikes that are ideal for improving fitness, strength and building endurance and speed. They monitor progress, such as power, pace, heart rate and pedalling effectiveness.
The sessions are run in 11-week blocks, with classes offered on a daily basis. To find out more visit www.activelichfield.co.uk or call Friary Grange Leisure Centre on 01543 308842.