G-Scapes creating the garden of your dreams.
The connection was further strengthened when their 2 sons, Robert and Daniel took over the business, earlier this year their sister Elizabeth completed the team. They strive to drive the business forward whilst retaining the original company ethos and family values.
2018 was a pivotal one for them working at the home of football, St Georges Park just up the road in Burton, then having the opportunity of working with head gardener himself Alan Titchmarsh.
They have completed several projects at the Hilton at St Georges Park including the courtyard area seen below.

Back in the Spring they were approached by the production team from ITV's 'Love Your Garden', they had been looking for an inspirational garden to use on the programme and found one on the G-Scapes website, that they considered to be 'just the one'. The project was completed over 3 years ago and had matured into a beautiful garden. The team had great fun filming with Alan Titchmarsh and you can't get a higher accolade than that!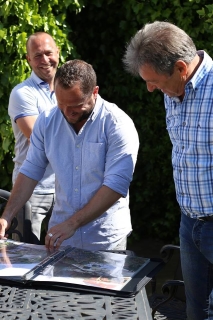 A seamless integration of hard and soft landscaping – Pathways wind round mirrored circular lawns and lead under bespoke metal hoop arches creating an exquisite garden.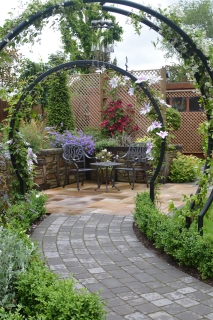 Here are just a few of the creations the team have designed and implemented throughout the year.
A once featureless, flat lawned garden has been transformed by an intricate layout of crafted dry-stone walling and sandstone paving, creating tiered levels linked by curved steps, interspersed with planting pockets, with pleached tree planting.

An elegant composite decking area offers the ultimate and versatile space for entertaining on a grand scale. Rustic and natural materials are used in a contemporary way to imaginatively create a bespoke bar area with full outdoor kitchen.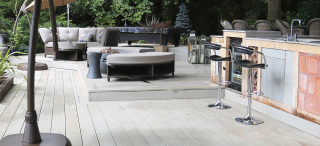 If you are looking for the garden of your dreams get in touch with the local experts G-Scapes on 01543 401032.
Photos courtesy of Chris Day Design.