Finding the Right Driving Instructor for You
Learning to drive is already a nerve-wrecking experience, so the last thing you need during your time learning is a driving instructor who only makes those nerves worse.
When looking for someone to teach you one of the most important skills in life, you want someone who is not only qualified to do the job, but also someone who makes the experience of learning to drive a good one. You should enjoy yourself while you learn!
You also want someone who has a good reputation. If someone you trust, whether that's a friend or family member, rates a driving instructor highly, then chances are that person is great at what they do. It's also worth checking online sources to see what other people have said too – this may also prove as evidence to see that other people have passed with this driving instructor.
It's also important that you get on with your driving instructor. As communication is key to the learning process, it will be easier if you and your driving instructor get on well. If not, then change. You need to be as comfortable as possible whilst learning to drive. A good driving instructor will also not force you to book lots of lessons there and then.
Here in Lichfield we have just the driving instructor who fits all the criteria.
Andy's Driving School is an independent driving school in Lichfield which ensures students enjoy their time driving. Andy's relaxed and easy style of teaching has helped nervous students grow their confidence and become great drivers.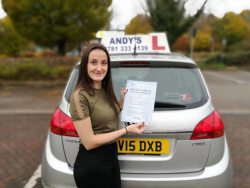 Here's what one of his students said:
"Heard of Andy through my older sisters who had both had a good experience learning to drive with him. I had a great time every week learning alongside my academic studies and Andy was very accommodating to fit in lessons with school hours. We got on well and this led to a smooth 6 month period of lessons that culminated in me passing on my first time with two minors thanks to Andy's teaching. Would definitely recommend to anyone wanting to learn." – Guy L
Boasting a high pass rate and with years of experience, Andy's Driving school comes highly recommended for anyone wanting to learn how to drive in Lichfield and surrounding areas.
If you would like to get on the road and learn to drive, call Andy's Driving School on 01543 401025.