Sunday 27th November:
Lichfield Christmas Lights Switch On - The annual Lichfield Christmas Lights Switch On is back this year. Along with the lights switch on, there will also be a Christmas Market with stalls selling food and Christmas gifts. Also to enjoy is some family entertainment, carol singing and a visit from Santa!

Thursday 1st December - Saturday 24th December:
Santa Specials at Chasewater Railway - When you visit Chasewater Railway this Christmas you will be treated to a true Christmas experience the whole family can enjoy. Ride the special Santa Train where you will have your chance to meet Santa. Be sure to book your place to avoid disappointment!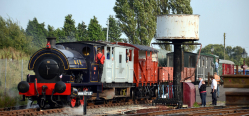 Friday 2nd December - Friday 23rd December:
Christmas Celebrations at Hawkesyard Estate - This year's Christmas season at Hawkesyard Estate offers you a choice of celebration lunches and evenings with delicious food, fun entertainment and a sparkling Christmas atmosphere. So if you want to celebrate Christmas in style, book your place at Hawkesyard today!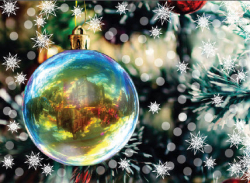 Saturday 3rd December:
Festive Food & Gift Fair at Lichfield Cathedral - Enjoy stalls packed with homemade gift ideas, festive treats, and delicious food to warm you up this Winter. Be sure to also visit the Cathedral for their Christmas Tree Festival.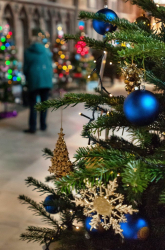 Sunday 4th December:
Lichfield Chamber of Trade & Commerce Christmas Fayre - Come down to Lichfield's Market Square and check out this always fun and exciting Christmas Fayre. With stalls selling Christmas gifts and seasonal food and entertainment throughout the day, you won't want to miss this fun Christmas fayre! 
St Giles Hospice Rudolph Run - Help raise money for St Giles Hospice by dressing up in your best Christmas attire and running (or walking) the 6km around Tamworth Castle Grounds.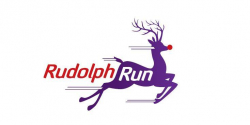 Saturday 10th - Sunday 11th December:
Lichfield Christmas Food & Drink Festival  - Join in the festive fun at the first ever Lichfield Christmas Food & Drink Festival. This fantastic weekend will see hundreds of stalls lined up in the streets of Lichfield selling delicious food and drink. There will also be a variety of activities to enjoy throughout the weekend.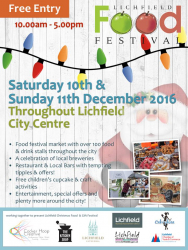 Sunday 11th December:
Santa Fun Run - Get ready for some winter fun all for a good cause! A scenic 2.5k route around lovely Lichfield whilst dressed up as Santa.This is the first Lichfield Santa fun Run in aid of MACS – the UK's national charity for children born without eyes or with underdeveloped eyes. Help make a difference by joining all the other Santa's for this fun event!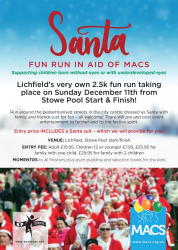 Christmas at the Lichfield Garrick:
Saturday 3rd Decemeber - Saturday 31st December:
Sleeping Beauty at the Lichfield Garrick - It wouldn't be Christmas without the panto, and this year is no different. Following the success of last year's Jack and the Beanstalk, the Lichfield Garrick presents Sleeping Beauty; the story of a young princess who is cursed to eternal sleep by an evil witch, unless kissed by a prince.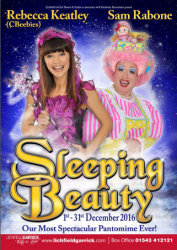 With a star-studded cast taking to the stage, this promises to be the Garrick's most spectacular pantomime ever! Enter our competition to win a family ticket!
Friday 9th December - Saturday 31st December:
Crimes Against Christmas - A new comedy thriller for adults that sees a host of characters invited to a party in a mysterious house on a remote island. No sooner has the party started when the guests start dying in suspiciously Christmassy ways. This a fun and different take on your traditional Christmas shows!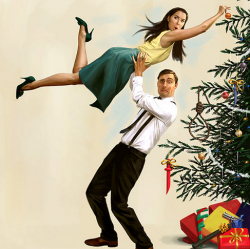 Tuesday 13th December - Saturday 24th December:
Dear Santa - Little ones will love this light-hearted Christmas show, which is the perfect show to introduce them to theatre. Santa is determined to deliver the most fantastic Christmas present to Sarah. But he doesn't get it right straight away! With the help of his cheeky Elf, he finally settles on something 'perfect', just in time for Christmas Eve. After the show, audiences will get to meet Santa!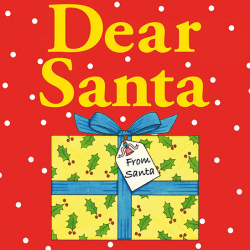 Twelve Days of Christmas in Lichfield:
From Tuesday 13th December - Saturday 24th December, there will be festive goodies and seasonal activities for you to enjoy in the lead-up to Christmas. Each day there's a festive treat for you. Check out what's available on each day.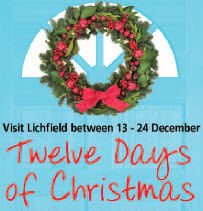 If you are hosting a Christmas event we don't know about, why not add it to our website for free?