FA Cup comes to Lichfield - stunning replica of trophy to auction days before Chelsea v Leicester City final
IT'S the world's oldest football competition – and now you have a chance to 'win' the FA Cup at a Lichfield auction just days before Chelsea and Leicester City play the 2021 final.
For a rare replica of the iconic Football Association Challenge Cup is going under the hammer as Lot 677 in Richard Winterton Auctioneers' Antiques & Home Sale on Monday, May 10, starting at 9.30am.
Incredibly, the 66cm tall shining silver lustred likeness is actually crafted from ceramic with a platinum glaze and comes in three parts – the cup itself, the lid and base – just like the real thing.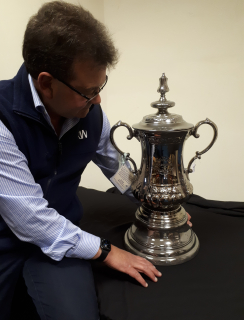 The internal glaze is coloured bronze to resemble Champagne stains left by decades of victories.
Portmeirion Pottery invested 100 hours of modelling to reproduce the trophy commemorating the 1980 FA Cup Final between West Ham United and Arsenal, won 1-0 by West Ham at Wembley on May 10 – coincidentally the same date that the replica goes under the hammer at the Lichfield Auction Centre, Wood End Lane, Fradley Park.
"After lengthy negotiations, Portmeirion was given permission by FA secretary Ted Croker to produce these limited edition scale replicas in 1979," said ceramics specialist – and fervent Liverpool FC supporter – Janet Winterton.
"The modeller Fred Hackney, of Brunswick Ceramics Services in Stoke-on-Trent, inspected the cup at Highbury as Arsenal held the trophy at the time.
"Unfortunately, the production costs – including the use of a platinum glaze – proved prohibitive to the manufacturer and the replica never went into full commercial production.
"This particular replica is certificate 19 of 500 but in fact it is estimated that fewer than 200 were produced before the project was abandoned in 1980."
First played during the 1871-1872 season, the Football Association Challenge Cup is the oldest national football competition in the world.
There have been two designs of the cup and five actual trophies have been presented.
The original trophy – the 'little tin idol' – was stolen in 1895, never recovered and replaced by an exact replica which was used until 1910.
After 1909 winners Manchester United had their own replica crafted, the FA realised it did not own the copyright and launched a redesign.
A new, larger trophy designed by Fattorini and Sons was used from 1911 and it is this very cup upon which the ceramic version coming to auction is modelled.
The actual 1911 trophy was replaced by an exact replica in 1992, which was itself replaced by a third replica from 2014, the latter being built heavier to withstand increased handling.
The 2021 FA Cup Final – the 140th final of the FA Cup – will be played at Wembley Stadium at 5.30pm on Saturday, May 15, between Chelsea and Leicester City.
"This replica is just uncanny and a real goal for any football fan," added auctioneer Richard Winterton.
"Furthering its appeal even more to collectors, no-one can be sure how many of these reproductions are in existence.
"And speaking as someone whose teams – Stoke and Burton – have been cruelly denied the FA Cup to date, this replica could go some way to making a fan's giant-killing dreams come true… in fantasy at least!"
The catalogue for Richard Winterton's May 10 Antiques & Home Sale will be available online via www.richardwinterton.co.uk/

Specialist valuations for jewellery, watches and silver at The Lichfield Auction Centre can be booked strictly by appointment between 10am-4pm on Thursdays.
Appointments for general valuations, also on Thursdays, become available from May 6.
Telephone 01543 406124 or email office@richardwinterton.co.uk to book and to arrange free quotations for house clearances and probate services.
Visit www.richardwinterton.co.uk.