'Exemplary' soldier's Arnhem medals come to auction in Lichfield
A GROUP of nine medals to a veteran of the ill-fated WW2 Operation Market Garden in Arnhem go under the hammer in Lichfield next month.
The medals to John Johnstone representing "the finest in the traditions of the British fighting soldier" feature as Lot 145 with Richard Winterton Auctioneers live from The Lichfield Auction Centre on Monday, September 6.
An "exemplary" soldier who served his country for almost 25 years in the Army, Johnstone was a qualified specialist parachutist and completed many Army courses including tank commander training.
Swing-mounted on a wearing bar, his medals are:
1939-45 Africa, Italy, France and Germany Stars

Defence & War medals (un-named as issued)

General Service Medal with Bar, Palestine 1945-48, and Mentioned in Dispatches laurel leaf fitted to ribbon, named 1876625 Cpl J.J.N. Johnstone RE (Royal Engineers)

Queen's Coronation Medal 1953 (un-named)

Regular Army LSGC Medal, named 1876625 Sgt J.J.N. Johnstone RE.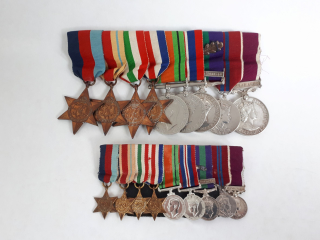 The archive also includes a matching miniature group of medals; Royal Engineers cap badges; photographs of Johnstone; Red Regular Army Certificate of Service dated 1963, describing Johnstone's military conduct and character as 'exemplary'; Army Certificate of Education dated July 1939; and original warrant for promotion to Warrant Officer dated March 30 1962.
Johnstone enlisted with the Royal Engineers aged 16 on March 2 1939.
With the Second World War raging, he volunteered for the Airborne forces in 1942.
After serving in North Africa and Italy, in 1944 he was sent to Arnhem as part of Operation Market Garden, dropping into German-occupied Holland on a Horsa glider.
Three airborne divisions were tasked with seizing bridges across the major rivers in a bid to deploy the Allies into Germany.
It was a bold plan which was supposed to end World War Two in Europe but turned into the last major defeat suffered by the British Army.
The Battle of Arnhem was depicted in the 1977 war epic A Bridge Too Far.
Johnstone served throughout the siege before being evacuated over the Rhine.
Recalling his part in Operation Market Garden, Johnstone told a local Lincolnshire newspaper in 1994: "There were three of us on a seat and the door was open at the side with the side door open.
"The first lot set off to get into Arnhem and we then set off with the reconnaissance.
"We got into Arnhem but didn't stay.
"We didn't really know that things weren't going to plan.
"We came back on Monday night. I'll always remember coming back because we were given a hot bowl of cocoa!
"I guess we were very lucky."
194 men from Johnstone's unit went into Arnhem; 44 died, 79 were missing, killed or captured and only 71 made it out.
"Johnstone and his unit were supplementing the 1st Parachute Brigade and, despite valiant efforts to capture and hold the bridge at Arnhem, the mission failed," said Nick Thompson, militaria specialist at The Lichfield Auction Centre.
"He was fortunate to be evacuated from the town in a daring operation at night which saw lots of British and Allied men get away from under the eyes of the Germans and across the Rhine to relative safety."
After the war, Johnstone went to Palestine with the army and was mentioned in dispatches for actions in the conflict.
He also served in Tripoli and Norway.
Johnstone retired from the army on December 23 1963 after a total of 24 years and 297 days 'exemplary' service.
"This group represents the finest in the traditions of the British fighting soldier," added Mr Thompson.
"Groups to Arnhem do not come to market very often."
Johnstone's medals and accompanying ephemera archive are guided at £200-£350.
Medals and militaria start the Two Day Antiques & Home Sale at 9.30am on Monday, September 6, at The Lichfield Auction Centre, Wood End Lane, Fradley Park WS13 8NF.
It includes more than 100 lots of medals, militaria, uniforms and apparel, swords and daggers and antique and sporting guns.
The same sale includes a unique group of Special Forces medals to SAS trooper Roger Tattersall representing "the highest achievements of soldiering and bravery", estimated to fetch £9,000-£12,000.
Viewing will be by online only have a sneak preview of the catalogue right here.
For auction, bidding and viewing enquiries, telephone Richard Winterton Auctioneers on 01543 251081 or email office@richardwinterton.co.uk.