Effective Ways to Learn how to Drive
Learning to drive is one of the most important things most of us will ever do. Once learnt, driving is a skill that will become essential in our day-to-day lives.
So if you're thinking of taking up driving lessons, here are some tips on how to make the experience of learning easier and more effective for you.
What You're Learning isn't just for the Test, It's for Life:
Do you remember having to learn algebra for a maths test in high school? You have to remember all these complicated things that frankly, you're not going to use in your day-to-day life.
When it comes to learning to drive though, everything that you are taught are things you are going to be doing for the rest of your life.
So when preparing for a test, it's best to get all the information bolted into your brain, because you are going to need that information for as long as you're on the road, which for most people is the majority of their lives.
Don't Let Mistakes Shatter Your Confidence:
Driving is a hard thing to learn, so of course mistakes are inevitable - everyone makes mistakes! Instead of focussing on the past, it's best to focus on the present.
Dwelling on a mistake is only going to make you even more nervous, and the last thing you want when learning to drive is even more stress.
The best thing to do is learn from the mistake and accept that the mistake was made.
Think About How You Learn Best:
Everyone learns differently. If you're unsure how you learn best, find out. For the instructor, it helps them to know how you learn, so they can adapt their learning style and technique to suit you.
Some learners are more practical and hands on, while others learn best through reading and listening.
So who should you entrust with helping you to become a safe and confident driver?
What you want is someone who has lots of experience and has a high pass rate, which is exactly why you should go with Andy's Driving School.
Andy has been teaching people to drive for 10 years and has seen many of his students pass with flying colours, becoming happy and safe drivers.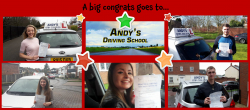 Andy not only wants his students to learn everything they need to know, but to have fun while they are doing it. He understands that learning to drive shouldn't be such a stressful experience, so by using his relaxed and easy teaching technique, he has made learning to drive a less daunting experience, even for the most nervous drivers.
You will enjoy your journey into becoming a fully-licensed driver and be a confident driver with Andy's help. Boasting a high pass rate as well as many positive reviews for his hard work, Andy's Driving School is definitely the driving school of choice.
So if you want an enjoyable experience when learning to drive, call Andy's Driving School in Lichfield today to make an appointment on 01543 401025.