Dog Friendly Lichfield
14th November 2017
... Comments
---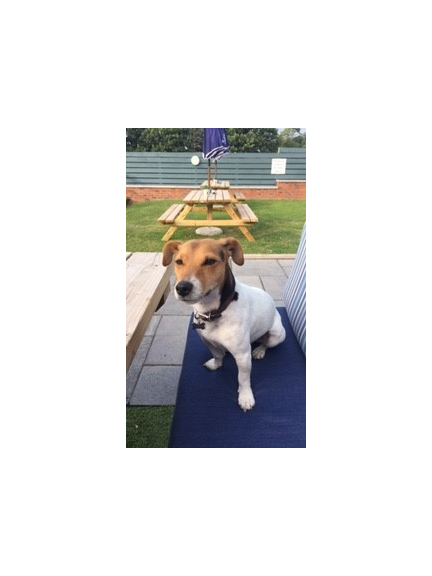 Since having a dog about a year ago I've spoken to a lot of friends, who are dog owners, about where they go with their own dogs and I hadn't realised how dog friendly our city is; many of them have the choice of one pub and one café if they are lucky.  I can reel off a list of bars, cafes and restaurants in Lichfield that are happy to invite in well behaved dogs and their owners.  I like nothing more than meeting up with my dog owning friends for a good walk and chat followed my coffee, lunch, or wine (it makes the wine taste even better when you've done some exercise first) and we never struggle for somewhere to go.  My hubby and I have spent many enjoyable evenings walking the dog via several of the town's dog friendly establishments.  I've shared some of my favourites below:
In the summer we go to The Barn a lot, they have a lovely outdoor area and we will often have a few beers on the terrace and throw the ball for the dog to tire him out before retreating to the bar for a spot of dinner. 
Faro is another favourite of mine, winter or summer, I think they are the most accommodating restaurant in Lichfield, they are dog and child friendly; they have a vegetarian menu, vegan menu, gluten free menu, and the largest selection of non-alcoholic drinks I've seen.  If you can't find something to suit everyone then I'll eat my hat!!
We also like to partake in a little pub crawl every now and then, and taking dog with us means we don't have to worry about walking him when we get home.  Our favourite route is to start at the top of town at the Duke of York, we then pop into Beerbohm, who not only do a rather nice range of beers for humans, they also sell a doggy beer too! A swift one in The Angel on Market Street is always welcome, and if we can manage it our final call is at the Horse and Jockey before we all trot home and collapse on the sofa.
We make sure we get plenty of exercise, so that when we go for our next checkup at Pool House Vets we don't get into trouble for having a beer belly!