The Close in which Lichfield Cathedral stands tall is full of vibrant history which still remains present to this day. Despite many of the buildings having been constructed in the Middle Ages, they are still in good shape.
At the centre of The Close is Lichfield Cathedral, one of the oldest cathedrals in the UK and the only Medieval cathedral with three spires.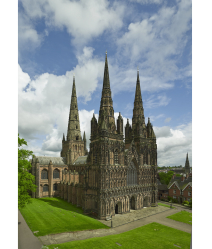 The three spires of Lichfield Cathedral, often referred to as 'The Ladies of the Vale', are prominent in Lichfield's landscape and can be seen for miles away, but look even more impressive up close.
Lichfield Cathedral plays a big part in Lichfield's history and is even the reason for Lichfield's city status. It is also the burial place of the great Anglo-Saxon missionary Bishop, St Chad.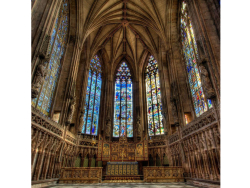 When you visit Lichfield Cathedral, you can discover over 1300 years of history, as well as see a medieval wall painting, the famous Herkenrode stained glass, the Lichfield Angel and much more.
Lichfield Cathedral is also a popular venue for a variety of events in Lichfield, so be sure to check out what events are coming up!
Opposite the towering cathedral is The Shop at No.9; a treasure chest of hand-picked goods and one-of-a-kind gifts that you wouldn't normally find on the High Street.
They sell a range of gifts from local and regional suppliers which you can browse in the relaxed atmosphere of the shop.
When you visit The Shop at No.9, you will be delighted with the range of gifts available, which include: books, glass, pottery, stationary, prints, Lichfield Cathedral coffee and chocolate and much more!
So whether you're looking to treat yourself or want the perfect gift for a loved one, visit The Shop at No.9 in The Close!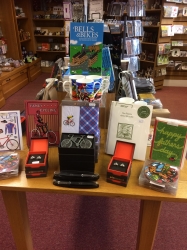 After all that exploring and browsing, why not take a break at Chapters – The Café in The Close? A great place for breakfast, lunch or just a coffee and a natter, Chapters serves great menu seven days a week in relaxed settings.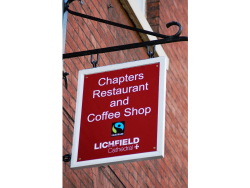 The ideal place to finish your visit of The Close, indulge in a varied menu of locally sourced food, including sandwiches and paninis, jacket potatoes, cakes and pastries and more.
When the sun is shining why not enjoy good food in beautiful surroundings by dining al fresco in their tea garden?
If you have not yet explored The Close in Lichfield, take some time to discover history and new local favourites.